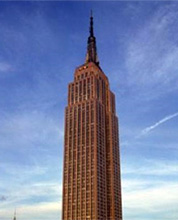 Empire State Building
350 Fifth Avenue
59th Floor
New York, NY 10118
Sales (212) 601-2700
The Empire State Building stands as the most prominent figure in the Manhattan skyline. This iconic building was the model of America's industrial era, and even today, it remains a symbol of strength. As a business address, the Empire State Building is world famous, and for Virgo Business Centers, it's the flagship of our fleet.
This 66-office facility boasts panoramic views from the entire 59th floor of this landmark building. The retail levels in the building include amenities such as eateries, banks, US Postal Service, FedEx and a currency exchange kiosk. This 24/7 building posts doormen at every entrance and employs a team of lobby personnel to quickly process guests.
In addition to our professionally appointed furnished offices, this 20,000 square-foot location contains two boardrooms, a copy center, private washrooms, a kitchen and stocked pantry. The classic combination of wood and leather make the reception area a great way to impress your guests and clients.
As a Virtual Office client, you can't find a more internationally recognized address than the Empire State Building. Put the building name on your business card, and your address will never be forgotten. Click here for more information about our Virtual Office programs.
Contact us today to arrange for a tour of this unique property.
Visit Our Google For Business Page at Google + 350 Fifth Ave
Photo Gallery – Empire State Building, Virgo Business Centers
Floor Plans
Next stop in our office rental space properties is Penn Station.