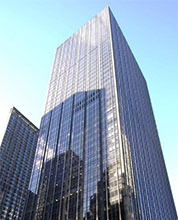 Midtown
1345 Avenue of the Americas
2nd Floor
New York, NY 10105
Sales (212) 601-2700
1345 Avenue of the Americas, a Sixth Avenue Class A building, is situated between 54th and 55th Streets. This prime space boasts a striking lobby that will leave a lasting impression on your guests and clients, on-site garage, close proximity to Fortune 500 neighbors, and some of the city's finest hotels and restaurants. The adjacent Fisher Park offers relief and tranquility from the hustle of the Ziegfeld Theater and the bustle of Sixth Avenue. The location of the property allows for convenient access to all forms of public transportation.
This 40,000 square-foot facility occupies the entire 2nd floor and boasts 115 modernly-furnished offices and team rooms. Also included in this business center are spacious meeting rooms, a remarkable lounge space, a copy/fax center, and a stocked kitchen/pantry.
Contact us today to arrange for a tour of this unique property.
Midtown – Virgo Business Centers Google+
Photo Gallery
Floor Plan