4 Manhattan Office Space Myths Debunked
Written by Don Seckler on October 27, 2015 in Blog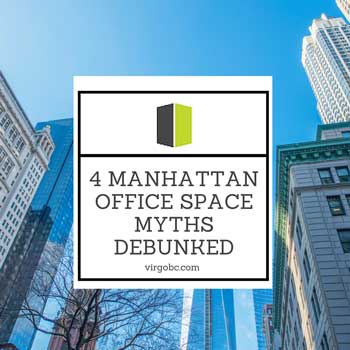 Having an office in a high-demand area gives you a professional place to meet with your clients, and it can grow your business by attracting potential clients from within your building and the surrounding areas. Unfortunately, due to several myths about Manhattan office space, you may be discouraged from even looking for a suitable office in the City for your business.
Myth #1: Manhattan Office Space Is Hard to Find and Expensive
While it is true that some offices in Manhattan are expensive, not all office spaces are cost-prohibitive. And just because there's no "For Rent" sign on the building doesn't mean the building is full. Many medium-sized and large companies occupy office spaces that are too big for their current needs. In this scenario, a company may be willing to lease you a small office or section of a room.
Another option is looking for office space that is controlled by a property management company. The company may own one or more large office suites that include multiple offices. This type of office space usually consists of a communal lobby, front door, and receptionist. The offices beyond the public area are often rented by freelancers, lawyers, insurance agents, financial managers, and marketing professionals. Each professional rents their particular office, and they all share the receptionist, lobby, and front door. This can save you money by giving you the private, professional space you need at a fraction of the cost of renting the entire office suite.
Myth #2: It Is Impossible to Negotiate a Reasonable Lease in Manhattan
It is not impossible to negotiate a reasonable lease in Manhattan. However, you must be patient with the negotiation process. When a potential landlord presents you with a contract for the space, you need to read it carefully and determine if the cost is worth the space plus any benefits that might be included in the lease. Then, you need to make a counter offer. This process may be repeated several times before both parties are in agreement.
To make the process easier, you can hire a broker that specializes in finding and negotiating leases for office spaces. While it may be tempting to hire a lawyer to review the lease, the lawyer may not know as much about the area or the leases as the broker. Just make sure to use a different broker than your potential new landlord.
Myth #3: It Takes Weeks after Signing the Lease Before a Business Can Move In
Traditional office spaces may not be immediately available, and you may want to renovate the space to your specifications prior to setting up your office. You will also need to set up your phone lines and Internet services. Those scenarios can take weeks from the day you sign your lease.
However, there are shared office spaces available that are furnished and move-in ready just as there are rental houses and apartments that are furnished and move-in ready. These spaces are already set up with tables, chairs, phones, and office furniture, which means you can move in as soon as you sign the lease. All you need are your files, computer, and personal business items.
Myth #4: Office Spaces Only Lease for Multiple Years
While there are many landlords that only accept multi-year leases, it is possible to find a lease that rents by the week or month. Some spaces even allow you to rent them by the day. The latter arrangement is great for small businesses and sole-proprietorships that have multiple meetings scheduled with clients or need to present a new product to investors, and their current space isn't professional enough. Renting the office by the month gives you the space you need without locking you into a long-term commitment.
Click here to see available premier office spaces in Manhattan. 
View Virgo Business Centers 5 Midtown Manhattan locations: Midtown, Midtown East, Grand Central Terminal, Empire State Building and Penn Station.