6 Top Notch Marketing Tips To Grow Your Small Business
Written by Don Seckler on December 17, 2015 in Blog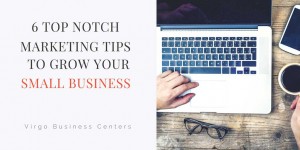 Marketing is a crucial step for any business to take. The way that businesses brand themselves could set the tone for not only what type of clients they are targeting but how successful their company may be in general. Small businesses are not immune to this extremely pivotal function. Especially if the business is a small startup, creating a successful marketing strategy could set a business apart from competitors in their field. However, contrary to larger businesses, a small business may not have an exorbitant amount of money devoted to marketing efforts. Fortunately, there are a number of inexpensive and successful tactics that can help a small business with getting started on the marketing front.
Networking –

Networking is perhaps the most important piece to the marketing puzzle. This portion of marketing not only gets a company's name out there but it also provides a personal touch that is so often neglected in other areas. Due to the countless number of social media platforms available such as

LinkedIn

, businesses can connect with existing and potential clients both quickly and professionally. LinkedIn provides a number of options for connectivity such as free private messages for non-connections who share a similar LinkedIn group as well as a skills and endorsements section to promote your expertise in a specific area. SVM E-Marketing Solutions provides a

list

of ways to utilize LinkedIn as a marketing tool for those who are interested in making the most of their LinkedIn experience.
Email marketing –

In the past, face to face sales was the best approach when forming a bond with potential clients. Due to the technology age, reaching clients through alternate methods such as email marketing increases your likelihood of being heard. However, messages that marinate with one client may not reach another. The key here is to determine what those needs are so that clients can be separated into groups to received messages relevant to their situation.

MailChimp

allows marketers to create fairly inexpensive campaigns and emails that may be fashioned toward a client's specific needs.
Publishing content –

Becoming a top influencer in your field is no easy task. Consistently publishing new content in a particular area goes a long way and can even increase your company name and presence. Adding a blog to your website is an excellent way to demonstrate knowledge in your field. Additionally, promoting that blog using basic SEO skills and social media increases awareness of your "know how" like no other method out there. If you aren't familiar with SEO marketing but would like to learn more, then Wordstream provides an easy to follow

beginners guide

.
Start an online contest or giveaway –

The power that online contests hold over people is inconceivable. Providing customers with the possibility of free merchandise, no matter how small, boosts engagement and leaves them with something to remember your business by. Forbes provides helpful

tips for running a successful online giveaway

for interested parties who are new to this type of Marketing.
Consider company-wide business cards –

Although business cards may seem a bit archaic, they actually go a long way. Not only do they provide a way for clients to reach out to your business but they create an opportunity for company branding. Plain business cards are a thing of the past. Improving your company-wide business cards to include company branding will set you apart from the crowd. CB Creative Bloq provides a few examples of ways that companies have taken advantage of their business cards

to implement branding strategies.
Create Infographics –

According to Slideshare infographics are more viral than other formats as they are shared three times more than documents and four times more than other documents across social media platforms such as

LinkedIn, Twitter and Facebook. Although a designer is the best approach to create infographics,

Canva

is a cost-effective way to create them on your own with several templates available to choose from.
Click here to see available premiere office spaces in Manhattan. 
View Virgo Business Centers 5 Midtown Manhattan locations: Midtown, Midtown East, Grand Central Terminal, Empire State Building and Penn Station.