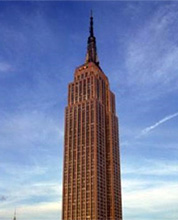 Empire State Building Office Space
350 Fifth Avenue
59th Floor
New York, NY 10118
Sales (212) 878-3626
The Empire State Building stands as the most prominent figure in the Manhattan skyline. This iconic building was the model of America's industrial era, and even today, it remains a symbol of strength. As a business address, it is world famous, and for Virgo Business Centers, it's the flagship of our fleet.
This 66-office facility boasts panoramic views from the entire 59th floor of this landmark building. The retail levels in the building include amenities such as eateries, banks, US Postal Service, FedEx and a currency exchange kiosk. This 24/7 building posts doormen at every entrance and employs a team of lobby personnel to quickly process guests.
In addition to our professionally appointed furnished offices and coworking space, this 20,000 square-foot location contains two meeting rooms, a copy center, a kitchen, and stocked pantry. The classic combination of wood and leather makes the reception area a great way to impress your guests and clients.
The Empire State Building business center includes these amenities:
Our shared office facility includes private offices ranging from 1-5 person interior and window options. Team rooms can accommodate up to 5 people.
Two spacious Meeting Rooms with access to the pantry and copy/fax center:
The Liberty Meeting Room is a private meeting room that accommodates 18 people comfortably. It is equipped with television, wired Internet, conference call capabilities, and a projection screen.
The Hudson Meeting Room is a smaller private meeting room that seats 12 people comfortably. It is equipped with wired Internet and conference call capabilities.
Copy/Fax Center – Features a quality black/white and colored copier, printer, and scanner. A fax machine is available for use.
Stocked Kitchen/Pantry – Includes a refrigerator and microwave for client use; stocked with coffee and tea. Vending machines are available with a variety of snacks and soft drinks.
Virgo's Empire State Building location serves the Manhattan areas of Herald Square, Garment District, 33rd Street PATH Station, and Penn Station. Shared office space rental and lease durations start at one month.
Call Virgo Empire State Building today at (212) 878-3626 to schedule a tour of this unique, shared office space and executive suites.
Empire State Building Office Space Photo Gallery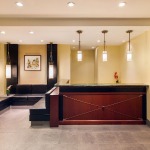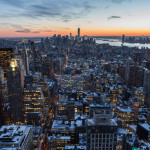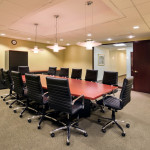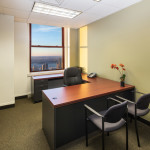 Empire State Building Office Space Floor Plan