How To Make The First Day For New Hires Awesome
Written by Don Seckler on November 3, 2015 in Blog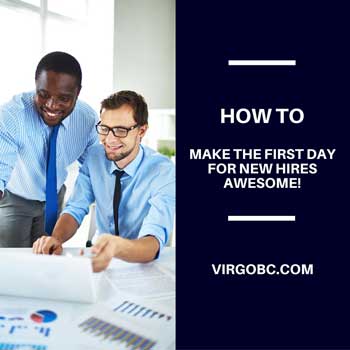 New kid on the block, new hire in the office – unavoidable life experiences that can be a bit awkward and stressful for everyone. An employee's first day on the job sets the tone for their entire career, and a bad first day can increase the chance that they will quit sooner. Losing an employee in their first year is very costly to you – approximately three times the cost of their salary, according to the Wynhurst Group. 
What can your business do to "onboard" a new employee quickly so that they feel valued and sufficiently oriented to their place in the company culture?
Welcome them before they even arrive
As CEO, send new hires a personal and handwritten note of thanks – or even a warm email if you prefer – to express your appreciation for their decision to join you.
Send the hiring and benefits paperwork prior to their first day. Completing the documents ahead of time frees up time on day one for more personal and meaningful interactions.
Greet them and meet with them
Act as the official greeter as soon as your new employee arrives at the office for the first time. Convey how happy you are to have them. If your company is large, personally introduce them to all key executives on their first day.
Set up their space
Have their desk already equipped with all the necessary tools and supplies required for their position:
Business cards printed and arranged in a desktop holder

Computer and printer loaded with software and apps

Phone message programmed with their name
Give them a coach
Pair your new hire with a peer who acts as personal mentor to answer the many questions your new candidate might be reluctant to ask you. ("What's the phone policy? Are these shoes OK? Where do we eat lunch?")
Studies show that new employees stay with a company longer when they're plugged into a social group early on. Millenials especially thrive in team-oriented situations.
Tour the office
Help the new employee feel comfortable with their new surroundings by providing a tour, no matter how small your space. Locating the supply room, bathroom, break room, and various departments are important aspects of learning about the company's organizational structure.
Put them to work
Research shows that providing new workers with manageable tasks on day one to demonstrate the skills they bring to the company leads to higher retention and better performance.
Can they update your website? Field a customer service phone call? Make a sales presentation to a new client? Showing proficiency helps them feel productive and confident while also introducing their skills to coworkers.
Take them to lunch
Treat your new hire and a few of their closest departmental colleagues to a nice lunch away from the office. This gives everyone a chance to relax and learn about families, hobbies, previous jobs, and educational pursuits. One of the main reasons new hires leave jobs early is from a sense of not belonging.
If your company is bigger…
If you have more than one new hire to orient, Google found that onboarding new workers in groups of 12 was far more comfortable and effective for creating stronger social bonds than larger groups.
You might go all in and create a multiple-day orientation festival with games, costumes, live music, and skits, or even stage a week long scavenger hunt designed to introduce new candidates to your company culture.
Ask for feedback at day's end
Encourage your newest employee to candidly share any concerns or observations they have after their introduction to your company. What do they need in order to show up tomorrow ready to roll? Before leaving for the day, be sure to reinforce once more how much you value your new hire. Nothing improves motivation and morale better than feeling wanted!
Click here to see available premier office spaces in Manhattan. 

View Virgo Business Centers 5 Midtown Manhattan locations: Midtown, Midtown East, Grand Central Terminal, Empire State Building and Penn Station.