How To Tell If Your Startup Office Space Will Help Your Business Grow
Written by Don Seckler on December 24, 2015 in Blog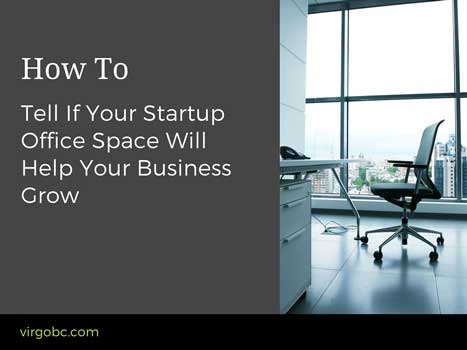 The feeling you get while walking through the doors on the very first day of your new startup is indescribable. Turning the key in the door and stepping over the threshold brings a wave of emotion that is difficult to forget or replicate. In order for your office to accurately reflect the tone of the event however, it must be a good fit for your current state as a business as well as the direction you plan on taking it in. Therefore, new startups should confirm several key points before signing the paperwork for their very first office.
There is room for new talent – Good talent is hard to come by so ensuring that there is room to add a top contributing employee is a great way to ensure the success of your growing enterprise. Moving into an office with very little space may be financially sensible and even workable for a new startup but as the company begins to grow, lack of space may also result in lack of talent. Without the necessary room to add new employees, you as a business owner may be rejecting top talent that helps to expand your company even further. Hiring passion is a rare thing so making office space available for when a passionate employee does come along will serve a greater purpose in the long run.
The location will meet current and future needs – Everybody knows that the key to any successful business is location, location, location. The challenge however, is foreseeing the future of your company to determine if its location today will still make sense for your business tomorrow. Since there is no crystal ball available to answer this question, it is important to consider how you would define your company's progress over the next few years. Sometimes, this is as simple as asking yourself the right questions in order to formulate a realistic response. The Harvard Business Review points out which questions to ask in their guide for predicting the future of your business.
The landlord has a positive reputation – Sometimes everything about the layout and location of your new office may be just right, with nothing but positive vibes about the space. Although this is certainly a step in the right direction for a successful and long-term business location, it does not fully define how fruitful your experience at that site will be. The relationship you have with your landlord can be equally as important as your love of the space. If the landlord is negligent when your needs are concerned, then an excellent office space may not be worth the heartache. Luckily, today we live in a world filled with technology and online reviews.
The office's style is appropriate for your business – Even though an office may look nice and fulfill all of the location and amenity requirements you were hoping for, this does not mean that it is the right space for your business. The style and layout of an office may be the first thing a client or potential employee notices when they walk through the doors of your building. Unfortunately, if your space does not reflect the tone of the industry then it may turn them off from doing business with you. If you aren't sure what to look for when considering your office style and layout then Forbes provides a list of ways to create an engaging office environment through office design.
Click here to see available premiere office spaces in Manhattan. 
View Virgo Business Centers 5 Midtown Manhattan locations: Midtown, Midtown East, Grand Central Terminal, Empire State Building and Penn Station.