What Is A Virtual Office in New York City?
Written by Don Seckler on January 25, 2016 in Blog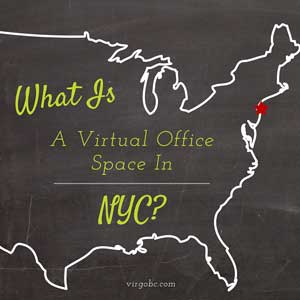 For the startup company who doesn't need an actual office, a virtual office is perfect. You get a prestigious address,  212 phone number, professional mail handling mailing, and a la carte meeting rooms whenever needed. Plus, the low price of a virtual office gives small businesses a big time address while meeting the demands of a small budget.
If a virtual office space matches your needs, the next step is to consider its location. New York City, especially Manhattan, makes a great starting point. Here, you can establish yourself in a variety of prestigious corporate buildings without the costs and headaches of a traditional office. Meeting rooms and office spaces can be booked ahead of time so you have a place to work whenever you have a need. Clients will be impressed when meeting you in Manhattan in a luxurious, professional atmosphere.

Reasons why should you consider a virtual office in New York City:
Having Elegance without Breaking the Bank


For startups,

budget

is everything. If your small business does not need a full time office space, then don't get one. Virtual offices allow businesses to cut overhead costs while having a steady address. There are no expensive set-up fees or furnishing hassles that go along with developing an office space. Having a physical address, especially in NYC, also guarantees your legitimacy to clients. You are reachable by mail with the option of having a physical meeting at an already well-established building.
No Property Management


Virtual office spaces obviously don't need upkeep or maintenance which can take time away from work. However, if you do need an office once in awhile, the burden of keeping the office tidy still doesn't fall on your shoulders. These office spaces have their own maintenance and IT staff that ensure things are running smoothly and professionally.
Receptionist


Virtual office spaces usually come with a receptionist that handles mailing, phone calls, voicemail, and forwarding services so you can keep working uninterrupted. Since the business is virtual, these systems are essential when keeping in contact with clients or prospective customers.
Separate Home from Work


Having your business mostly virtual can be

isolating

at times. Luckily, with a virtual office your business can seamlessly transition into the physical world at any point in time. You have the ability to use an office or meeting room by the hour, day, week, or month. This gives you the flexibility of attracting more employees and clients without becoming a recluse.
Happy Employees


Since your business is virtual, you can attract employees from all over the world. They'll even be more

thrilled

to work for a business based out of New York City. Plus, these employees won't have to sacrifice commute time or even get dressed each day which makes a virtual business even more enticing. However, if you require these employees meet with you once in awhile, they can take advantages of the many sights the city has to offer. Also, they can network with other nearby businesses which will promote growth and productivity.
Setting up a virtual office in NYC is a great way to solidify your growing company in a bustling city of successful corporations. Fortunately, companies like Virgo Business Centers provide this space for startups who need room to grow. They deliver everything your company needs to get started like phone and internet services, reception, mailing, printing, and offices whenever needed. Virgo will also give your company a prestigious NYC address with a 212 telephone number at Penn Station, Empire State Building, Grand Central, Midtown East, or Midtown.

Having a virtual office based in NYC lays the groundwork for your company to succeed without the common hurdles of a traditional office.

Click here to see available premiere furnished office space in Manhattan. 
View Virgo Business Centers 5 Midtown Manhattan locations: Midtown, Midtown East, Grand Central Terminal, Empire State Building and Penn Station.