5 Office Holiday Party Mistakes That Can Kill Your Career
Written by Don Seckler on December 10, 2015 in Blog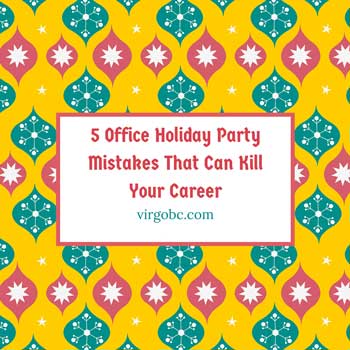 The holidays are upon us and with them come gifts, fantastic food, and the highly anticipated office holiday party. Celebrating the holidays with colleagues in a relaxed setting is an excellent way to break the ice and get to know one another on a more personal level. Although this sort of setting does provide us with an opportunity to show our coworkers that we are not "all work," if approached too carelessly then it could substantially hurt even the most promising of careers. Avoid making these 5 office holiday party mistakes to maintain and nurture your professional reputation.
Dressing inappropriately –

The old saying "Dress for success" doesn't only apply to clothing worn in the office. In fact, one of the biggest mistakes that people make when choosing an outfit for the office holiday party is that they fail to understand it is still a work event. Although women are commonly the culprits of this mistake due to the number of options which are available, men can easily fall victim to this unsaid rule. For those who are unsure about whether or not their clothing is office party appropriate, Forbes has created an excellent

guide

that breaks down the do's and don'ts of office party dress.
Drinking excessively –

Although this may seem like an obvious rule, it is surprising just how many times employees overindulge on alcohol during work functions. Not only is excessive alcohol consumption a no-no during an office holiday party but according to a

survey

completed by SHRM, nearly half of the sixty percent of companies who plan on having a holiday party have confirmed that they will regulate employee alcohol consumption through either tickets or a drink maximum. This demonstrates the concern that employers already have over serving alcohol during work related functions. After all, what happens at an office holiday party does not stay at an office holiday party.
Complaining –

Taking off your "work cap" and relaxing a bit is an outstanding way to foster new working relationships that may benefit your career. However, there is such a thing as becoming too relaxed. Sometimes, a subtle jab at your employer could quickly turn into a bashing that may result in dire consequences for your career if heard by the wrong individual. Keep the complaining to a minimum or avoid it all together in order to prevent any unintended comments.
Refusing to socialize –

Nobody likes a wall flower. Office holiday parties are meant to reward employees for all of their hard work but it is also a way to get to know other colleagues outside of the office. Since so much of our work days are spent completing job related tasks, we fail to really learn about the people around us. Aside from our usual work cliques, the remaining employee population may be virtually unknown to us. Failing to socialize may make you seem snobbish or uncaring to your fellow colleagues while building these relationships early on may offer rewarding benefits inside of the office. Inc. provides a useful

survival guide

for the introvert who is interested in making it through any holiday party.

Excessive talking –

Just as being introverted may create a problem, on the flip side of the coin excessive talking can be just as detrimental.  Monopolizing the entire conversation may make you seem like someone who doesn't care to listen. Although this may seem completely harmless, it could hurt you at a later time in the office. If you are finding it difficult to stop talking then consider

these useful tips

provided by Time Magazine.
Click here to see available premier temporary office spaces in Manhattan. 
View Virgo Business Centers 5 Midtown Manhattan locations: Midtown, Midtown East, Grand Central Terminal, Empire State Building and Penn Station.