When Should You Consider Temporary Office Space In NYC
Written by Don Seckler on December 8, 2015 in Blog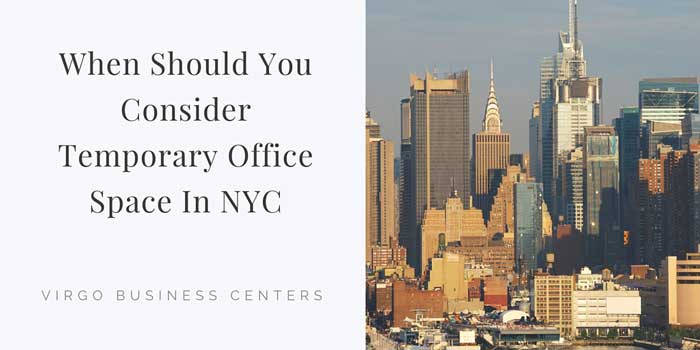 Nowadays, companies can minimize the expense of renting office space by opting to work at a business center. Working at a business center has some similarities to working in a coworking space in that it offers companies the chance to work among a variety of different companies and to enjoy frequent opportunities for networking and making business contacts.
However, it's also like renting private office space because work areas at business centers are broken into individual offices rather than left open so that many different companies work amongst each other. This means that business centers offer greater privacy and a more professional feel than a typical coworking space.
Companies operating in a huge city like New York City have a plethora of options to choose from when it comes to finding an appropriate space to conduct business. It can be hard to know what the best option is for your unique company. If you're wondering what kinds of situations a business center is perfect for, consider the following seven advantages of this type of office solution:
Can offer a temporary office space solution

– It is quite a common occurrence for a company to need office space but only for a short amount of time. In this case, it might be impossible to find a lease on a traditional office that is short enough to accommodate the needs of the company. A business center offers the perfect solution. At a business center, office space can be rented for as little as a single day.

Flexibility to grow with a company

– Business centers are great for accommodating company growth without requiring that a company relocate. As time goes on, companies can rent additional space or more office services including additional telephone lines, clerical services, and more.

Convenient when a fast move-in is necessary

– If you need to get down to business in a hurry, you'll be pleased to learn that it is often possible to move into a business center office in as little as one day. If you rent a traditional office, you might have to wait weeks before you can start doing business from your new location.

More cost effective than a traditional office rental

– Shop around and you'll probably find that a business center can offer you a much affordable price on office space rental than a traditional commercial real estate agent.

Allows for the use of professional touches like receptionists, conference rooms, office automation equipment, and other business essentials

– At a traditional office, you will have to pay for different expenses like office equipment and receptionist wages separately. On the other hand, these items are all included if you rent office space from a business center. This simplifies the process of running your business and calculating your business expenses.

Offer many opportunities to find business referrals

– Because business centers include many different companies working together, they offer daily opportunities for networking and branching out in business partners, clients, vendors, and more.

Furnished office spaces

– Avoid the hassle of shopping for appropriate office furniture by renting space at a business center. Finding furniture is not only time consuming, but it is also an added expense you'll have to cover when you get a traditional office like comes unfurnished.
Business centers offer the greatest possible flexibility and affordability for companies looking for temporary office space rentals in New York City. In New York, there are business centers located all over the city. You can find an office spot that puts your company right in the middle of all the hustle, bustle, and opportunity of the Big Apple.
Click here to see available premier temporary office spaces in Manhattan. 
View Virgo Business Centers 5 Midtown Manhattan locations: Midtown, Midtown East, Grand Central Terminal, Empire State Building and Penn Station.