5 Simple Ways To Boost Your Marketing For Your Small Business
Written by Don Seckler on November 10, 2015 in Blog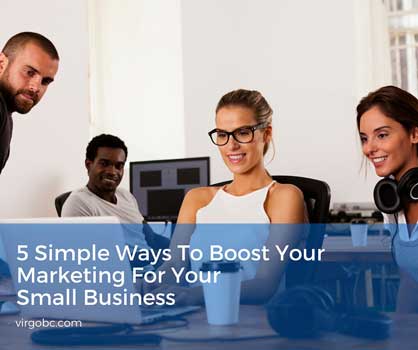 You need more clients and you need more sales. But as a small business owner who oversees every single aspect of your company, your time is extremely limited and your energy can't be squandered. How can you invest the minimum amount of effort to reap maximum profitability in the sale of your services or products?

1) Build an "All About Me" portfolio
Assuming you have at least a basic website, you also need a few baseline pieces of hard copy marketing materials. It can be a two-side takeaway rack card, a color postcard, a trifold brochure, or a full-blown presentation packet. You can create all of these marketing materials online in minutes at reasonable price points.

Form a personal connection to prospective customers in your materials by clearly and concisely communicating:
Who we are — Share your background and a bit of the company's history and mission.
What we do – List specific services and products and include an FAQ section that covers the most important points in a reader-friendly format.
How well we do it — Provide a generous sampling of some of your most enthusiastic and informative client testimonials with customers' full names and locations, with permission.
2) Solicit online reviews
This one effort is incredibly easy and takes no time but offers a huge potential yield. BrightLocal's 2014 survey on the importance of online reviews in the purchasing decision showed that 88 percent of respondents "read reviews to determine the quality of a local business."  This same percentage "trusts online reviews as much as personal recommendations."
Set up your business account on Google+, Yahoo Online, Bing Local, and Yelp and ask every happy customer to post an online review for you. If you're in the travel or hospitality industry, use specialized sites such as Zagat, UrbanSpoon, and TripAdvisor. Be sure to monitor your reviews and respond courteously to every review that is posted, even and especially the negative comments.
3) Create (and use) an email prospect list
Send clients consistent but never annoying email messages to announce special offers or alert them to important industry news. This is a great way to keep your company's name and services in the front of their minds. Focus on communicating value and "what's in it for me" to the recipient.
Use a simple form on your website to gather email addresses, and save every business card you receive for the same purpose. Import your contacts directly from your mail program into easy-to-use Constant Contact or MailChimp templates. These programs feature user-friendly analytics and tools.
4) Spread the word by speaking in public
Here's an idea that costs you nothing. In fact, you might even receive a fee for speaking at seminars, workshops, or panel discussions. You get to position yourself as an expert in your field to a large group of prospective clients, and you rub elbows with other well-connected professionals in your industry.
The potential benefits from networking with so many colleagues and customers in your target demographic at one time is well worth the effort to become comfortable with public speaking, even if that's not really your thing. Toastmasters exists for a reason! Work the other parts of your marketing program by distributing your "About Me" marketing materials, and gather more email addresses to add to your database.   
5) Follow-up, follow-up, follow-up
Nothing impresses a customer more than a personalized quality assurance call or email from you a week after they've received your product or service. It tells them that you care about their experience, you genuinely value their feedback, and are willing to earn their repeat business. Checking in after you've closed a sale is one of the most important cost-free marketing strategies you can implement to generate additional revenue and loyal customers.  
Click here to see available premier office spaces in Manhattan. 
View Virgo Business Centers 5 Midtown Manhattan locations: Midtown, Midtown East, Grand Central Terminal, Empire State Building and Penn Station.