How A Team Room Can Make Your Company More Successful
Written by Don Seckler on November 13, 2015 in Blog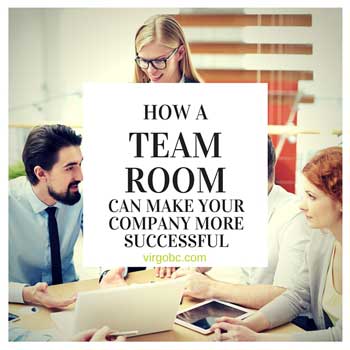 As the owner of your company, you realize that certain spaces help your employees be more productive. One of those spaces is a team room. Once everyone gets together to collaborate in a team room you'll immediately recognize its benefits and wonder how the company made it to this point without such a communal space. The bottom line is that employees communicate in a much more effective manner when they are all in the same room in a face-to-face environment rather than from behind their computer screens or in a traditional meeting.
The Inefficiency of Electronic Correspondence
While it is fine and dandy to shoot off e-mails and place phone calls throughout the day, those methods of communication between your staff can be highly flawed. Nowadays, the average cubicle dweller is inundated with a seemingly endless stream of e-mail messages, instant messages, phone calls and voicemails. The result is that most employees quickly scan their messages without committing the content of those communications to memory. There is simply too much information bombarding employees. When this avalanche of information is presented in a digital manner, it can easily be lost in the shuffle.
The Power of In-Person Interactions
Instead of sending an onslaught of e-mails, employees should address important topics in a company team room. This space encourages clear lines of communication and boosts the odds that employees will actually remember what was discussed.
More importantly, it creates an inclusive dialogue that people actually pay close attention to. It is much more effective to verbalize one's thoughts and present them to the entire department or organization in face-to-face interaction within a team room than it is to cc everyone on an e-mail.
Consider the ramifications of both types of communication. In a team room, face-to-face interactions occur that inspire attentiveness and meaningful dialogue. When a mass e-mail is sent, some employees might not open it. Others might quickly sift through its contents and retain only what they believe to be the most important material. Do no let this happen to your organization. Instead, delegate a space as your new team room and enjoy the myriad of benefits associated with face-to-face interactions.
The Advantage of Interacting in a Team Room Rather Than Holding Meetings
Meetings tend to be dominated by high level managers or executives who reel off lengthy monologues. They also feel much too formal and old-fashioned when compared to the dynamic that exists in the average team room.
Collaborate in a team room with your employees and you will find that everyone pays close attention. A team room provides each individual with the chance for his voice to be heard. Perhaps most importantly, it allows workers to tune out the many distractions of the typical office environment. They'll be away from their screens (including e-mail and instant messenger), away from their smartphones and won't be tempted to indulge in food or drink. Instead, they'll be fully engaged in a dialogue with their co-workers and supervisors. This is undoubtedly the most effective way to communicate.
A team room also inspires the type of workplace democracy that mid to low level workers crave. It serves as an open forum for employees of different ranks to voice their opinions, concerns and unique insights. While democracy might not exist in the vast majority of workplaces, it certainly helps morale to provide a team room that gives workers the sense that their voice really does matter.
Break up the Monotony of the Workday
Once you assign a space within the office as your organization's team room, you will find that your managers and their employees use it much more often than you originally anticipated. Interacting in a team room provides a very helpful escape from the workday grind. The unfortunate truth is that too many employees sink into a rut after hours of staring into the screen, typing sequences of numbers and repeating the same tasks over and over.
It does not help that most contemporary office interactions are conducted in a digital manner. Do not let your team fall prey to the monotony of the workday. Encourage them to collaborate in your new team room on a regular basis. They'll obtain a psychological boost from these face-to-face interactions that cannot be achieved through a computer screen or telephone. More importantly, a team room fosters the forging of genuine bonds between employees. Communicating with one another face-to-face is precisely what people need in today's high-tech, screen-dominated society. Your new team room will unite employees, encourage them to develop friendships and ameliorate efforts to communicate complex ideas and operating procedures.
Team Room Options in New York City
Virgo Business Centers offers team rooms that are generously sized and easy on company budgets, accommodating 5-12 people per company. If your business is growing, but you're not able to commit to long term office leasing, our short term office rentals are the best solution for your needs. Special projects and traveling teams find the turnkey furnished rooms and building amenities ideal for their temporary NY office space requirements.

Click here to see available premier team rooms in Manhattan.
View Virgo Business Centers 5 Midtown Manhattan locations: Midtown, Midtown East, Grand Central Terminal, Empire State Building and Penn Station.