5 Ways Shared Office Space Can Help Grow Your Business in NYC
Written by Don Seckler on September 1, 2015 in Blog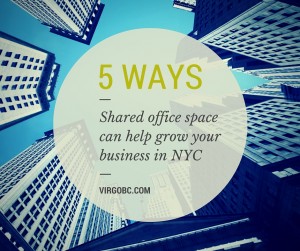 Businesses that have office space in Manhattan enjoy an extra degree of prestige and status compared to businesses in the outer boroughs or other parts of the New York and New Jersey metropolitan area. While most New York City businesses would love to have an office space in Manhattan, they balk at the cost of the office space. Similarly, many businesses see the operating expenses involved with having their own office space, and determine that the office space is too large—and too expensive—for their actual business needs.
Fortunately, businesses that want office space in Manhattan or any other borough in New York City do not have to choose an office space solution that is too expensive or too large for their business needs. Businesses can opt for business centers and shared office space in Manhattan, which will help grow business while still enjoying the benefits of Manhattan office space at an affordable price.
Access to a Wide Range of Professional Amenities
If you are an attorney or similar professional who rents your own office space, it can be difficult to finance all of the professional amenities you might need. Conference rooms, mail centers, reception areas and more will drive up the expenses of your office space solution since they require additional real estate and a larger office space.
However, in a business center environment, you can enjoy access to the conference rooms and meeting rooms as you need them, allowing you to impress clients without breaking the bank. Being able to utilize these professional amenities that most businesses could not otherwise afford can certainly contribute to growing your business in a cost-effective way.
Up and Running in Minutes
By renting an office yourself, you will have to get it furnished, connected and fully ready for all of your office tasks before you can engage in productive work. With a shared office space, your office environment is already fully furnished and ready to go.
As soon as you sign the contract and take care of the financial considerations, you are ready to start growing your business immediately.
Solo Entrepreneurs Enjoy Unique Benefits
Working as a solo entrepreneur can be a lonely experience, but this can be avoided thanks to shared office spaces. Solo entrepreneurs can enjoy the benefits of bonding with others who share the business center, and this socialization can make work a more pleasant experience.
Additionally, you may even meet people in the same line of work who can provide recommendations or jog your brain with fresh and unique ideas that can be used to grow your business. New York City is filled with passionate entrepreneurs who can inspire you to take your business to new heights, which provides clear benefits compared to staying at home and working in an isolated environment.
Professional On Site Staff Add Enhanced Value
In a traditional office space, you will have to hire employees who can help handle the day-to-day office tasks, but this is not the case in a business center environment. Professional on-site staff are ready and able to help when you need them.
This added benefit saves you cash while still providing you with the help you need to run a business at optimum efficiency.
Shared Office Space Allows for Flexible Rental Terms
Finally, your business can rent a shared office space as you need it, whether by the month, the day or the hour. It makes little sense to lease your own space at a monthly rate if only a few hours will do. This can add up to huge cost savings that you can then reinvest into your business.
By sharing office space through a quality business center, you can grow your business while still working at a desirable office in an ideal Manhattan location.
Click here to see available premier office spaces in Manhattan. 
View Virgo Business Centers 5 Midtown Manhattan locations: Midtown, Midtown East, Grand Central Terminal, Empire State Building and Penn Station.