How To Turn Your Search For Manhattan Office Space Into A Win
Written by Don Seckler on September 3, 2015 in Blog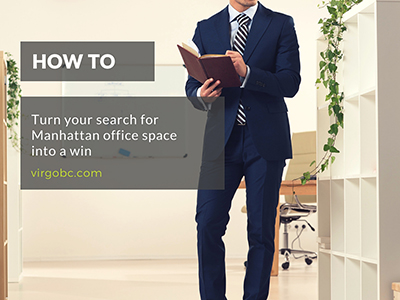 When it comes to scoring a win in your search for Manhattan office space, think location, location, location first. Is it important that your office space is close to commuter train and subway lines? Do like industries rent in that neighborhood? And what about nearby entertainment and dining options? Take some time to think about what would be an A+ location for your needs, wants and New York City style.
Midtown at a Glance
Midtown is home to NYC's most famous building, the Empire State Building, and it is nestled in the heart of Manhattan. There are many reasons that make this magnificent neighborhood popular for businesses. It's a busy commercial center and large business district. And there are plenty of upscale restaurants, chic shopping centers and clubs. Plus, when it comes to getting around town, there's easy access to all of the major subway lines.
A Look at Union Square
The historic neighborhood of Union Square serves up many business office rental opportunities in both new buildings and classic spaces with a lot of history. The sheer number of people who frequent Union Square can help any business grow. The Union Square Greenmarket draws in over 250,000 consumers a week and there is also the Union Square Holiday Market during the Holiday season. The national historic landmark of Union Square Park makes Union Square a highly attractive location for all types of businesses. The park has grassy knolls along with impressive statues of George Washington, Mohandas Gandhi and Abraham Lincoln. Take a break from work and relax in this impressive, picturesque park. Easily get around with different subway lines, including the 4, 5, 6, L, N, Q and R trains.
About the Garment District
Networking opportunities abound in the Garment District if your business is related to fashion. From design and production to wholesale selling, the Garment District is home to a large number of major fashion labels like Donna Karan and Calvin Klein. And in terms of renting office space, this neighborhood is a smart pick for a variety of reasons. Businesses can take advantage of the large amount of traffic commuting through the area. It's also within walking distance of the Grand Central Terminal and Penn Station where you have access to MTA subway stations, the Long Island Railroad, Amtrak, NJ Transit and the Metro North Rail services. Getting to and from the Garment District is easy.
Grand Central Station
The area around Grand Central Station (42nd Street and Park Avenue) is a perfect neighborhood where you can find office space for businesses that have commuter employees.  This neighborhood is vibrant and there are some great resources and places for employees to clear their heads at lunch right near by. It's only a few blocks from Bryant Park and the New York Library.  This location is perfect for businesses who are coming from Westchester, Connecticut, or the Upper East Side of Manhattan. It's an excellent business neighborhood for therapists, attorneys, and CPAs.
Other popular office rental neighborhoods in NYC include Tribeca, SoHo, Greenwich Village, Financial District and the Flatiron District. Be sure to learn about all them before you pick your rental office space. And keep in mind that many of the neighborhoods in NYC offer shared office space. Share office space with other professionals and enjoy the amenities of furnished space, Internet service, phone services, kitchens, health clubs, professional printing equipment and more without breaking the bank. It's a savvy alternative to beat NYC's pricey real estate market. Now, that's a real homerun!
Click here to see available premier office spaces in Manhattan. 
View Virgo Business Centers 5 Midtown Manhattan locations: Midtown, Midtown East, Grand Central Terminal, Empire State Building and Penn Station.