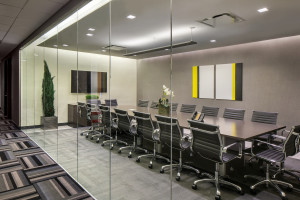 Some meetings are too important to be held in the office. That's why our Penn Station Business Center includes two conference room rentals available by the day or the hour. Our conference rooms enable  you to create visual presentations or face-to-face meetings in a professional and convenient space.
One conference room has seating for 8, the other for 20.
Conference Room Rentals
Speakerphone Handsets & Voice Conferencing
Unlimited Domestic Long-Distance Dialing
Security Enabled High-Speed Internet Access
Attended Reception Area
Professionally Trained Administrative Support Staff
Business Equipment (Copy, Fax, Print & Scanning)
Catering & Transportation Services
The larger conference room also includes:
Cable TV & Video Playback Equipment
Audio / Video Presentation Equipment & Supplies
Whether you need a place to hold a quarterly stockholders meeting, meet potential investors, or discuss with your partners the latest developments, you will find our professionally serviced conference room rentals are able to accommodate your every need.
Our easy reservation system is available to clients of Virgo Business Centers and the general public. Low daily and hourly rates allow small business and entrepreneurs to benefit from the use of professionally furnished conference rooms without breaking your budget.
Conference Room Rentals at 6 Prime New York City Locations
225 West 34th Street – near Penn Station and Madison Square Garden
350 Fifth Avenue – Empire State Building
380 Lexington Avenue – Grand Central and 42nd Street
575 Lexington Avenue – Midtown East, 51st Street
1345 Avenue of Americas – Between 54th and 55th Streets, next to Hilton Hotel
Hours: Monday – Friday 8:30 – 5:30
Virgo Business Centers 225 West 34th Street 9th Floor New York NY 10122 (212) 878-3626