Forget Office Space, Think Shared Office Space in Manhattan
Written by Don Seckler on November 26, 2015 in Blog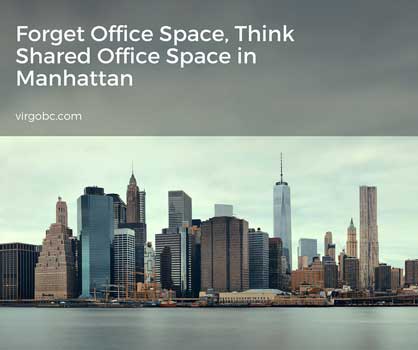 Be honest. When you think about professional white-collar services, don't you think that you are more apt to find high-quality services in Manhattan than in New York City's other four boroughs and in the city's suburbs, including cities in Connecticut and New Jersey?
Well guess what? Many of your prospective clients feel the same way. They might seek an attorney in Queens or an accountant in Brooklyn or a financial consultant in Newark when price is their sole criteria. However, they might also seek companies, law firms, entrepreneurs, and other white-collar professionals that have offices in Manhattan when high-quality services is their most important criteria.
You're an entrepreneur or the owner of a small business, but I bet you want at least some of those people to be your clients. In fact, you might not even realize that those people could be your clients. You know the importance of location, but you also think that you can't afford to have an office in Manhattan.
Fortunately, there is an answer to your predicament — shared office space.
Yes, you can simultaneously spend less money than you would spend if you leased an office in many other parts of the New York City metropolitan area AND earn more money from high-end clients. Please understand that we're not talking about coworking space. At least some of those prospective clients will want a meeting at your office — and their assumption about the quality of your services might change for the worse if your "office" isn't a private office.
"For many small businesses, especially those seeking large corporate or government contracts, the perception of capacity or the ability to project a professional image is important," reported Newsday newspaper in an article entitled "More office space being geared to meet demand from sole proprietors."
The advantages of shared office space in Manhattan include:
* Better Meeting Space:
Yes, you might have an impressive home office with a lot of meeting space. Your office might have a different entrance than the residential part of your home. Your children and pets might never, ever interfere with your work. Your home office might even have more meeting space than a business center with several shared offices. Nevertheless, many prospective clients prefer meeting at a Manhattan office than your home. An address outside the home has an "appearance factor" that boosts legitimacy, Erica Chase-Gregory, the regional director of Farmingdale State College's Small Business Development Center, told Newsday.
* Flexibility:
You are much more likely to be able to sign a short-term lease for shared office space than a landlord who is leasing a standalone office. As an entrepreneur whose business might become larger or smaller soon, you want that flexibility. "Signing a long-term lease isn't feasible (for startups and small companies) unless you are able to find a fantastic deal," reports "How to Find Startup Office Space," an article in YFS Magazine, a magazine for self-employed people. In fact, a business center with shared office space can offer you the opportunity to relocate from one of its offices to another as your business grows or shrinks.
* Shared Services:
Besides meeting rooms, business centers offer a wide range of services that can be prohibitively expensive for small businesses and entrepreneurs. These services are affordable, though, because the costs are shared by all of the companies that are leasing office space in the building. You don't have to pay for a full-time receptionist, for example, because the receptionist is working for you and the companies you are sharing office space with. The same is true of phone and Internet service. "Most shared offices are already equipped with phone and Internet service at move-in, allowing business owners to plug in and go without spending time and money on tech setup," reports "3 Overlooked Benefits Of Shared Office Space," another article in YFS Magazine.
Click here to see available premier office spaces in New York City. 

View Virgo Business Centers 5 Midtown Manhattan locations: Midtown, Midtown East, Grand Central Terminal, Empire State Building and Penn Station.