How A Virtual Address Can Help Your NYC Business
Written by Don Seckler on November 24, 2015 in Blog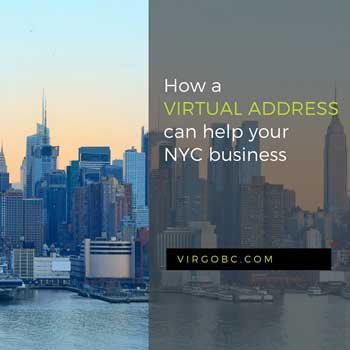 In the digital world of the 21st Century, there is widespread acceptance of the fact that business can be transacted effectively from anywhere on the globe. Even for firms with large offices and a commanding physical presence tied to a specific location, a growing trend is that executives and even support staff work remotely, or from home, at least part of the time.
Especially for high-tech and start-up businesses with an eye on the bottom line, the need for office space in a high-rent district is secondary to critical requirements for effective communication and branding, and an ability to maximize resources, both monetarily and in terms of personnel. Those considerations have resulted in some innovative solutions that are peculiar to an emerging breed of thought leaders and entrepreneurs. "Going to work" manifests in a variety of non-traditional realities.
The How-To of Image-Building
However, as always, image is important. Sometimes, the existence of a "proper" zip code constitutes validity in business terms. An exclusive business address is not a frivolous goal; it might be just the step up a young firm requires to build a successful reputation. At the other end of the spectrum, an actual office might be totally unnecessary to your particular enterprise; however, frequent client conferences and business presentations can be awkward in public places. A third scenario describes the need for clerical and organizational assistance that a shared office arrangement provides.
A virtual office with an impressive Manhattan address is Virgo's stock in trade. With six separate and distinctive locations in iconic buildings, we offer more than 200,000 total square feet to fulfill your business needs.  The beauty of an arrangement that requires no long-term leases, eliminates the need for extensive support staff, and offers options for executive suites, meeting and conference facilities, phone services, mail delivery and support services is a totally-modern and customizable solution. Your growth may depend upon it. Whether you need a city office for a week or a month, or meeting space by the hour only a few times a year, we can be your "go-to" office.
Embrace the Illusion
Job sharing, working from home, collaboration through technology, and other forms of teleworking represent a trend that is expected to increase dramatically over the next five years. Benefits are legion in terms of employee satisfaction, productivity and corporate financial gain.
There are some reasonable arguments for resisting the trend, but if you feel advantages tip the scale, it is important to select the right location and the kind of facility that will satisfy your needs over time. Your choice can be influenced by many factors: Your own location and commuting habits, travel and ancillary needs such as hotel accommodations for meetings or conferences, and client expectations. Your type of business might also play into your selection of office space.
If you act as an international broker for fashion merchandisers, our Penn Plaza offices in a renovated Art Deco building convenient to the garment district as well as Penn Station could be a perfect option. The iconic Empire State Building, and an address on the 59th floor of this world-famous doorman-equipped building is duly impressive, for New Yorkers as well as foreign visitors, and it represents the "flagship of our fleet."
Whatever your choice, Virgo Business Centers offers a viable and virtual way to build your future success. We welcome inquiries about our state-of-the-art solutions, and will be pleased to schedule a tour of our properties.
Get started with a prestigious New York City virtual address. 
View Virgo Business Centers 5 Midtown Manhattan locations: Midtown, Midtown East, Grand Central Terminal, Empire State Building and Penn Station.