How Furnished Office Space Can Save You Money
Written by Don Seckler on December 31, 2015 in Blog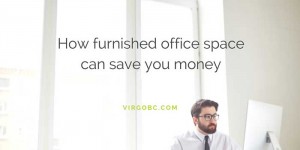 For small business and startup owners, a furnished office space is the best option when searching for a home away from home. Trying to build a successful business is stressful enough without the complications and hassles of finding an office. Once you find one, you'll have to think about design, furniture, technology, and layout all while fitting it within your budget. However, finding office space that already has what you need can eliminate these hassles while cutting costs. Plus, these affordable spaces have the polished look and feel you're searching for to be the face of your business.
Why You Should Lease a Furnished Office Space
Much Less Expensive


By leasing an outfitted work space, you'll first avoid furniture costs, pesky set up fees like Wi-Fi and phone, and even maintenance. Then you'll save money on the lease as this typically won't burn a hole in your pocket.



Can Get to Work Right Away


When you walk in, your desk awaits the first task because nothing else has to be set up. You can start working and making money right off the bat. Therefore, the time and money you could have spent on furnishings is now used on increasing revenue.



Additional Services


Most of these fully-equipped office spaces come with convenient services to help run your startup smoothly. Usually, the space will offer a receptionist, maintenance personnel, and IT support along with  printing, mailing, copying, and faxing services. You might even have access to a kitchen or fully stocked pantry to help get you through those long work days.



Look Professional


For small business startups, looking professional and distinguished establishes a solid presence. Potential clients and partners will feel confident in your abilities which then leads to making more money.



You Can Scale-Up if Needed


With all the money you've been saving and making on a furnished space, your business is finally growing into the success you dreamed about. However, you now need a bigger space to accommodate the expansion. Luckily, these buildings give you the chance to add more room without the headache of finding a brand-new space. Likewise, if you need to downsize your business, you can opt for a smaller space too. This will again save you time and money without the need to even change your company's address.
By housing your startup in an already established office space, you'll be able to skip ahead to the part where you can start working in a professional atmosphere right away without breaking the bank. Plus, you'll be saving money and time which can be invested back into your growing business. You and your employees will be happier and more productive in these creativity-driven areas supported by a sophisticated background.
New startups and small businesses continue to spring up all over the United States each month. These businesses need a solid cornerstone in which to lay the foundation for a successful future. Furnished office spaces can give these fledgling organizations the space and flexibility needed to focus on running a prosperous enterprise.
Click here to see available premiere furnished office space in Manhattan. 
View Virgo Business Centers 5 Midtown Manhattan locations: Midtown, Midtown East, Grand Central Terminal, Empire State Building and Penn Station.