Office Space on 6th Avenue In Midtown Makes Sense
Written by Don Seckler on January 19, 2016 in Blog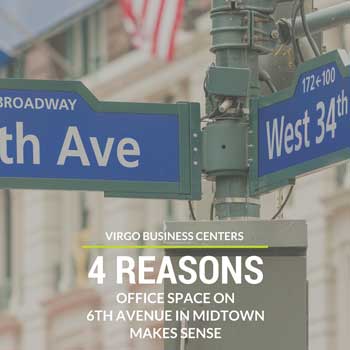 Having office space in Midtown Manhattan adds prestige, class, and reliability to any new business owner's brand. These office spaces can also be competitively priced while retaining flexibility, making the move even that much more appealing. Furthermore, startups are guaranteed a professional atmosphere alongside other influential office spaces in the area, especially on skyscraper-lined 6th Avenue in Midtown.
But how did 6th Avenue garner its esteemed reputation? Back in the 1940s, business owners wanted to transform the then drabby avenue into a place of prominence and affluence. So in 1945, Mayor La Guardia changed the avenue's name to the Avenue of the Americas, a place for Central and South America to build their consulates. These structures would certainly bring a level of prosperity along with signs being hung on lamp posts all over the avenue representing these countries and their affiliation. Then in the 1960s the avenue was rebuilt above 42nd street to house the many glass-towered corporate headquarters that we see today. However, the Avenue of the Americas name never stuck and to this day it's less used than the name 6th Avenue. Even the signs were removed in the 1990s to further squash this nickname.
Though it's officially Avenue of the Americas, 6th Avenue is the name people usually call this street. It still carries a certain magnitude of distinction that would benefit any new businesses searching for a home. Here are the 4 reasons why setting up an office on this avenue in Manhattan is a great idea for startups or small businesses.
Prestigious Address


You'll be in good company in Midtown Manhattan because it is a dense area of retail and commercial businesses. For example,

Rockefeller Center

between 5th and 6th Avenues houses 19 commercial buildings on 22 expansive acres. Housed in this business hub are the corporate centers of Time-Life, Exxon, and NBC Studios. Having neighbors like that certainly adds to the reputation of your small company.
212


The Manhattan 212 area code is one of the most sought after numbers for businesses. Having one of your own on a business card goes hand-in-hand with the 6th Avenue address you'll be stationed at. Clients are more likely to answer a call from a 212 number because of its famed location.
Transportation


Being on 6th Avenue grants you convenient access to the subway, Sixth Avenue (B, D, F & M) and Eighth Avenue (A, C & E) train lines, buses, and even New Jersey's PATH. You'll be close to many shopping and dining experiences as well.
All the Perks of a Stress-Free Office Space


You can have it all with a shared or temporary office space. The

costs

of leasing a shared office space are exponentially less than renting a traditional office in this area. Plus, all of the details of your office will already be taken care of. You won't need to worry about internet, furniture, phones, upkeep, or even hiring a receptionist. You can get to work right away and start making money. On top of all that, you're small business will be housed on the affluent 6th Avenue in Midtown Manhattan where other famous and influential corporate centers call home.
Going to work each day on 6th Avenue in Midtown can be an exciting and rewarding experience. Catching a view of other skyscrapers and well-known businesses only add to the appeal. Your clients will feel comfortable knowing your business is aligned with this retail and commercial center in New York City. This client retention and growth is essential when building a company. Why not guarantee success by starting off in the right location?
Click here to see available premiere furnished office space in Manhattan. 
View Virgo Business Centers 5 Midtown Manhattan locations: Midtown, Midtown East, Grand Central Terminal, Empire State Building and Penn Station.