4 Team Room Strategies That Will Increase Productivity
Written by Don Seckler on January 14, 2016 in Blog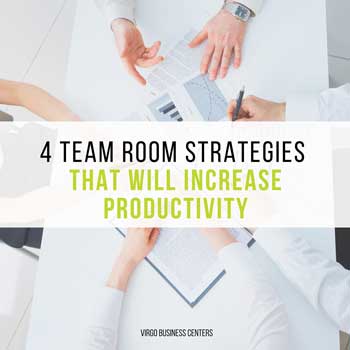 When working within an office space, team rooms are an important feature to have. These rooms are dedicated for workers to collaborate on projects while being removed from the main area. Team rooms can be great areas for bouncing ideas around and boosting creativity. However, if used improperly, they can do more harm than good. There are important strategies to keep in mind when setting up a team room to increase efficiency. But first, what are the benefits of having a team room?
Face to face communication between team members and leaders

Ease of mobility. People have the options of sitting standing, and walking around

Awareness of what everyone else is working on

Opportunity for clarification and assistance if necessary
Having access to a team room for both new and old companies provides the opportunity of discussion, participation, and combining forces. Making sure these spaces are used to the best of a company's time and resources should be one of its priorities of sustaining growth.
How to Increase Efficiency in a Team Room
Maximize Space for Optimal Output


A team room should consist of white boards, bulletin boards, sticky notes, writing utensils, push pins and whatever else needed to spark creativity. It's also important to make sure the furniture is movable so employees can have the proper mobility they desire. In addition, wireless laptops and a steady internet connection inside the space will keep ideas flowing.

Share the Agenda with Teammates


In an email or some other mode of communication, let participants in an upcoming meeting be aware of what to expect. Employees should know what topics or issues will be discussed. Then at the end of the meeting, team leaders should recap and make sure everyone knows their assigned task for the project. It's also important to stick to time confinements set out by the initial agenda. Start and end the meeting on time.

One Task at a Time


During a meeting, use the white boards to list tasks and their progress. Prioritizing tasks is also key so that time is well spent on what actually needs to be completed. Also, switching tasks around too much decreases productivity for workers so stick to original plans.

Have the Right People in the Team Room


From the outset, leaders should know what the main focus of a meeting should be. Therefore, only include those people who have a clear role and purpose towards the tasks at hand. Then healthy discussion and ideas can flourish while maintaining a clear concept of what needs to be done. Only a handful of people should be in the room at one time, anyone else might cause a distraction or feel their valuable time is being wasted.
Having a productive team room atmosphere is essential for project completion and collaboration. Remember to focus on high-priority tasks, direct communication with team members,and limiting participants. By using the above strategies, meetings will be more effective instead of time-wasters which can hurt creativity and efficiency.
Click here to see available premiere furnished office space in Manhattan. 
View Virgo Business Centers 5 Midtown Manhattan locations: Midtown, Midtown East, Grand Central Terminal, Empire State Building and Penn Station.