Smart Growth Strategies For New Legal Practices
Written by Don Seckler on January 12, 2016 in Blog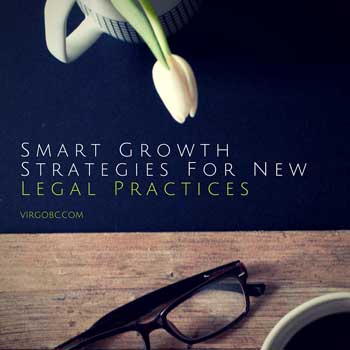 Smart Growth Strategies for New Legal Practices
With a law degree and experience in your capable hands, perhaps you're ready to begin a legal practice with the dream of eventually turning it into a successful law firm. However, turning this dream into a reality takes time, commitment, and confidence in your abilities. Luckily, there are some blueprints you can follow that can lead you to owning a successful practice.
Strategies for Expanding Legal Practices
Figure out a Legal Niche
While it may seem logical to boast being the best lawyer of everything, specializing in one or two areas of law greatly increases your chances of being successful. Law firms that only focus on one or two particular areas will become exceptional at both. People will pay higher rates for an expert. Plus, there is less competition between niche law firms than general ones.
Client Retention
Legal practices are service-based, meaning keeping clients happy is the cornerstone of business. Current clients must be over-the-moon happy with your council rather than merely satisfied. These clients are the core to legal practices as they make up for most of the revenue and will even provide referrals. Therefore, building a strong relationship with them will keep your business thriving.
Attract New Clients
Take notice of the characteristics of current clients then find similar groups of people. Get out of the office and simply talk to people about how you can help. At the same time, be an active listener so they can see your sincerity and compassion. It's also a good idea to become involved in the community. That way people can see your brand but also feel comfortable knowing you care.
Have a Great Website
Building a comprehensive website is key to attracting growth these days. First, legal practices with easy URLs and domain names allow people to quickly access information. Next, a website must perform well across multiple platforms like mobile phones, laptops, and tablets. Otherwise you'll lose a lot of potential clients. Content on one of these websites should be SEO driven, readable, and organized. Along with an attractive website, legal practices should be on social media, which is a free. Updating a couple times a day with engaging text or photos can really increase followers.
Creating an Exceptional Work Environment
Just like clients, employees of a legal practice need to be happy. Employees that feel respected and appreciated will show more efficiency in their work which leads to more clients. It's important to incorporate all team members in a professional atmosphere that supports growth and functionality. Job satisfaction can retain your employees along with their clients.
Building a sustainable law practice proves difficult without the right tools to get started. By knowing your niche, customers, and employees you'll be on the way to establishing your name in the business. Plus, tapping into the existing market of social media and website development could mean even more exposure for new practices. Remembering these few key factors when dreaming of a successful law firm in the future can increase your chances of expanding to new clients just by word of mouth.  Remember, marketing does not have to be expensive.
Click here to see available premiere furnished office space in Manhattan. 
View Virgo Business Centers 5 Midtown Manhattan locations: Midtown, Midtown East, Grand Central Terminal, Empire State Building and Penn Station.