When It Pays To Move Your NYC Business Into An Office Space
Written by Don Seckler on October 20, 2015 in Blog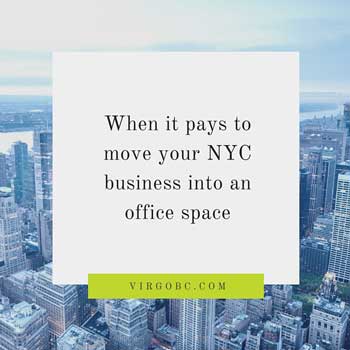 If you own a small business or are a sole-proprietorship, moving to a NYC office space could improve your productivity and your income while giving you a better work-life balance.
Better Separation of Your Business and Home Life
Freelancers, insurance agents, lawyers and other soloprenuers need to be able to separate their work-lives from their home-lives. Combining the two into one space can leave you at risk for neglecting either your work or your family.  By leaving your home in the morning and your office in the evening, you are creating defined work and family time, which can improve both aspects of your life. In addition, you will be better able to separate your work expenses from your home expenses on your taxes at the end of the year.
Business Growth and Hiring
While remaining at home may seem like a smart financial move, it can limit your ability to expand. Examine your current in-home office or garage space and ask yourself if you could comfortably fit another non-family employee into the space? Is the space appropriate for meeting with potential clients and investors? If the answers to these questions are 'no', you should seriously consider renting professional office space.
Improved Perception of Professionalism
Everyone in New York knows where the prestigious office spaces are located. Renting an office in one of those locations can increase clients' perceptions of your business and impress potential investors. Plus, you can now put your business address on all of your correspondence without worrying that someone will recognize it as a residential neighborhood. You will also have the space to hang your diplomas and professional awards, which can help improve your reputation.
Improved Productivity
Working from home can lead to procrastination. There is always something that will need to be done, including dishes and laundry. Even if you can close the door to your office, you may still find yourself thinking about all the things that need done in other parts of the house. Moving to an office and dressing professionally will help you focus on your work, which will lead to an increase in productivity and income.
Better Office Equipment
If you choose to rent a fully furnished office or lease one office in an office suite, you will have access to better equipment, including multi-line phones, video conferencing, fax machines and commercial grade copiers. While at-home equipment and software will let you perform businesses tasks, they can be clunky. Home-based video software may prevent you from conferencing with people in certain geographical locations, and it may limit the number of people you can video conference at one time.  Professional-grade copiers and fax machines are much faster than their at-home counterparts, which will save you time and allow you to stay focused on your work.
Improved Customer Service
Office centers provide their renters with professional lobbies and a dedicated receptionist. This means that your clients will be welcomed into the office immediately, and you will receive a phone call when you have a visitor. This means that you do not have to continuously scan the lobby for arrivals, and if you get absorbed in your work, you won't accidentally ignore a client.
Socialization
Imagine being able to socialize with other professionals. Renting an office gives you access to the other small business owners and professionals. This will give you an opportunity to make professional contacts and cultivate friendships outside of your home and neighborhood so that you can reconnect with the business world.
Click here to see available premier office spaces in Manhattan. 
View Virgo Business Centers 5 Midtown Manhattan locations: Midtown, Midtown East, Grand Central Terminal, Empire State Building and Penn Station.