How You Know It's Time To Move Your Business Out Of Your Apartment
Written by Don Seckler on October 15, 2015 in Blog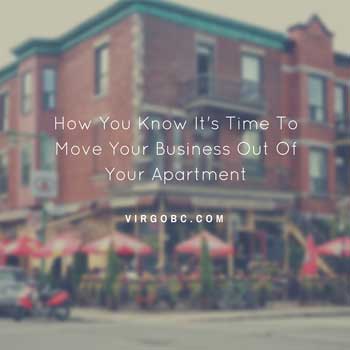 Starting your own business can be rough. Not only are you responsible for every aspect of your company, but it takes up room in your apartment. However, after putting your passion into your vision, your business is starting to take off. You need to be able to meet with clients in a professional space and have an office to work from. The only problem is that you are not ready to invest in a long-term rental agreement. You want to stay on solid financial footing and keep your employees happy so that they will continue doing the incredible job helping your business grow. But, your home is too cramped to work out of anymore and you don't have room to meet as a group. What is the solution to this dilemma?
A Temporary Permanent Office
If you are in a similar situation to the one described above, it is time to find an outside office. That doesn't mean that you can't do some of your work at home, but it does mean that you need a more professional place to meet with your clients and vendors than the local coffee shop. Many entrepreneurs start out their businesses working from home, but to impress your dream clientele, it is important to find an office. If you are not ready to commit to a long-term lease because your budget doesn't allow for it, then a solution is to find a shared office space that you can use when you need it.
Shared Office Space
A shared office space offers you the availability of an office without a big commitment. You can have meetings, interview vendors, and even have a virtual office in a prestigious Manhattan neighborhood. You get the clout that comes with having a professional office without the bills that go with it. Shared office space is an ideal situation to take your business to the next level.
Features of a Business Center
Using a shared office space gives you the features of a real office. You have Internet access, office furnishings, phone lines, a receptionist, mail handling, and flexible rental terms. You can rent space by the hour, day, week, or month, which also gives you the opportunity to use the space for intense weeks of meetings, then not use it until you need it again. This arrangement works well for any industry, but especially for those that do most of their work in a different setting. For businesses that do most of their work online, a business center gives you legitimacy and privacy between appointments.
Flexibility
For many new businesses, flexibility is both a necessary requirement and an opportunity to land contracts that older businesses can't. A shared space gives you the flexibility that you need and can turn on a dime like you can. You can move in within 24 hours, and easily meet with new clients in a high-quality, private setting.
Networking
You can also network with other small businesses that use the business center, and help each other grow when possible. Connecting with other like-minded entrepreneurs can really help you grow your business.  You'll have a built-in group that you can use as a sounding board and as a great referral source for business.
Click here to see great office options for new small businesses right here in NYC.
View Virgo Business Centers 5 Midtown Manhattan locations: Midtown, Midtown East, Grand Central Terminal, Empire State Building and Penn Station.