Why NYC Businesses Prefer Shared Office Space Over A Traditional Office
Written by Don Seckler on September 17, 2015 in Blog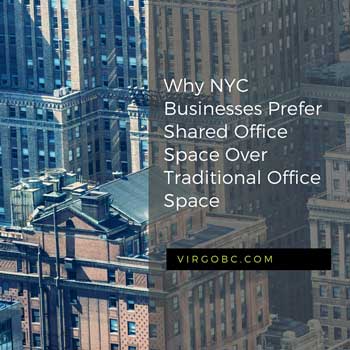 Shared office space continues to be alluring to many businesses in NYC. As a matter of fact, these types of business centers are now a preferred option over renting a traditional office. Here are 5 reasons why entrepreneurs and businesses are opting for shared office space in the Big Apple:
Price
Whether it's a start-up business or an existing one, NYC rental fees are costly. Renting traditional office space is a large overhead expense and a cash drain on business capital. Shared office space is a budget-friendly alternative to renting a traditional office. When you rent office space on your own, you're responsible for paying out of pocket for all of the necessities like hiring a receptionist, lighting, cleaning, phone systems, internet and more.
With shared office space deposit fees are low, and you do not need to commit to a traditional five-plus year lease. Plus all of the extras are included. All around, shared office space is more cost-effective for both small and mid-sized companies.
Short Commitment
Do you have a large international client coming to the City next month and you want to make a good impression? Do you only need office space for a six-month interval?  Do you need to start up a New York City location ASAP? Each business has unique short-term and long-term office needs, and one of the best parts of renting shared office space is that you can rent month-to-month for as long as you need the space. There's no need to commit to a five-year lease. You may find that within three months, you need to double your space—or reduce it—and this can be done easily with shared office space.
Getting Up and Going Almost Immediately
By renting shared office space, you can be fully functional within 24 hours. You forego the time and energy spent tracking down the perfect amount of office space in the ideal part of town, hassling with real estate brokers, setting up appointments, filling out credit reports, signing contracts, and taking weeks for phone and internet connections to be set up. With a large variety of options available in different parts of the City, shared office space takes the hassle, time, and aggravation out of securing an office location. This allows you to better spend your time focused on your business, rather than taking weeks to get your office set up.
Benefitting from Office Amenities
Another reason why many NYC businesses prefer shared office space is the availability of built-in amenities like a receptionist, admin staff, conference rooms and a fully stocked pantry. You will receive all the benefits of a professional work space without having to add this support staff to your payroll. By moving into a business center that is already fully furnished, you will be up and running quickly, eliminating the hassle of having to shop for business equipment, business services and business furniture. And with a NYC mailing address and 212 phone number, your brand gets a sophisticated, high-profile image. It's like going from Main Street to Wall Street. The bottom line is that it sends a powerful message to your clients and customer base.
Networking with other Clients
Shared office space with like-minded professionals in your industry can build camaraderie and keep your brand image consistent. Many businesses are lured by the instant networking opportunities associated with shared office space. It brings connections that may not have been available and is an ideal way to grow your customer base. Use your nearby contacts to get leads and referrals for your company. Professionals in groups like therapists, accountants, lawyers, and consultants can expand client marketing exposure to a one-stop shop. Shared office space is truly a synergistic marketing solution. Everyone benefits.
So with all the perks of affordability, month-to-month leases, immediate availability, professional amenities, and networking opportunities, it really comes as no surprise that savvy New Yorkers in business prefer shared office space to renting a traditional office. And while many think that shared office space is a thing of the future, it's already a favorite of present business owners in NYC. After all, NYC is home to many business hipsters. It's where everything happens first.
Click here to see available premier office spaces in Manhattan. 
View Virgo Business Centers 5 Midtown Manhattan locations: Midtown, Midtown East, Grand Central Terminal, Empire State Building and Penn Station.