Why Office Space Is Actually Good For Your NYC Business
Written by Don Seckler on September 22, 2015 in Blog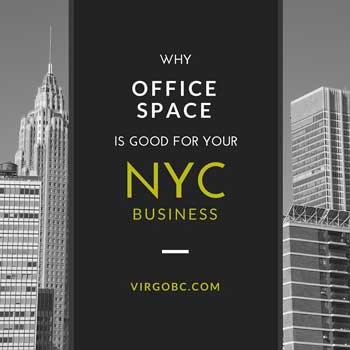 Since New York City remains one of the most expensive cities in the countries to rent your own office space, NYC businesses often see this expense as a necessary, yet cost-exorbitant burden to their bottom line. But here's an alternative that can significantly reduce costs and help to grow your company: business centers, also known as shared office space, where companies can enjoy the benefits of an office without paying the traditional NYC rents to have one. These business centers are an invaluable ally for companies looking to obtain effective office space that can grow their business without breaking the bank.
Here are five ways that business centers and shared office spaces are good for your NYC business:
1. Your Business Saves Money
Sharing office space is good for your business, because it saves money that can then be reinvested into your company. Instead of wasting money on expensive office space with long-term leases and the need for office equipment, computers, furniture, and personnel, your business can get off the ground immediately in a business center solution that provides all the benefits of a traditional space at significantly reduced costs since the costs are shared.
2. Your Office is Ready to Go Immediately
The cost-saving benefits of a business center pair nicely with the fact that a shared office space can be ready for your business in as little as 24 hours. Compare this to traditional office space, where it can take weeks or more to move in and have all the phone, computer and internet connections set up. Let alone the time and energy required to hire support staff and office personnel.
3. Access to Professional Amenities and Resources
Business centers offer immediate access to professional resources and amenities that even traditional office spaces may not have. The ability to have a professional receptionist and a conference room give your business the performance edge it needs to compete, and copiers and other resources ensure that your workplace productivity remains efficient.
These perks would not be affordable for many businesses that used all their cash to afford a traditional office space. But with shared office space, there is no reason to compromise on the amenities while your business saves on costs.
4. No Need for Long-Term Commitment
Traditional leasing contracts and rental contracts for an office space in NYC often require businesses to lock into a long-term commitment that can be a burdensome hindrance to your business flexibility and growth. Shared office space, however, can be rented for the exact length of your needs, whether it's a week, month, season or year. In some cases, you can even rent office space on an hourly or daily basis if need be, ensuring you can pay for the precise amount of office space you need. You can also adjust the size of your office, depending on your company's needs and growth.
5. Excellent Way to Network
Finally, shared office space in NYC is an excellent way to network and grow your business with the help of your peers. In a business center environment, you will have easy and effortless access to other businesses that could potentially grow your business. Shared office space can function as a built-in referral network where businesses help each other out on their way toward business growth and success.
Thanks to the immediate cost-savings, flexible commitments, desirable resources and more, business centers with shared office spaces can be an invaluable ally as you continue to grow your business.
Click here to see available premier office spaces in Manhattan. 
View Virgo Business Centers 5 Midtown Manhattan locations: Midtown, Midtown East, Grand Central Terminal, Empire State Building and Penn Station.