Why Shared Office Space Beats Coworking Space Everytime
Written by Don Seckler on January 7, 2016 in Blog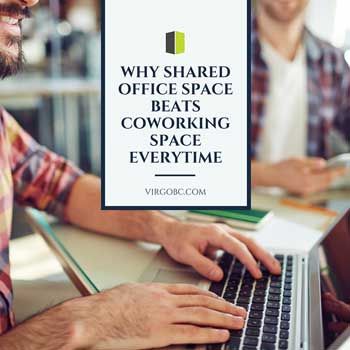 When first getting a business off the ground, one of the things to think about is where to house this new company. You'll be searching for that perfect blend of professionalism, style, and price to achieve maximum productivity.
The two most popular choices for a working space are shared office spaces and coworking spaces. What's the difference? Shared office space is located at a  business center where your company has its own office that's fully furnished. Coworking spaces, on the other hand, are open areas with tables and desks laid out for employees from multiple businesses to work. Though the lower price of coworking spaces might seem enticing at first, shared office space is definitely the better option for harnessing creativity, efficiency, and productivity in a quality driven environment.
Why a Shared Office Space is Better than a Coworking Space
You Get What You Pay For
Coworking spaces, though cheaper, do not always give a professional atmosphere where employees can produce their best work. Right from the start with a shared office space, you'll get your own office which is fully equipped with furniture, technology, and even a receptionist. The sleek, professional style of the office is already put into place once you enter, so there's no need to muddle your mind with design or moving decisions. With everything included, you and your employees can get to work immediately.
Networking
You'll be able to network with like-minded people at both a shared office space and coworking space. However, at a shared office space, you'll probably get people who have been in the business for a while who can share valuable insights. Therefore, collaborations can grow, benefiting both companies. In a coworking space, you may find people in a similar business but the possibility of constant interruptions is more likely with everyone in the same room. Coworking spaces are definitely noisier than office spaces which can affect productivity immensely.
Flexibility But No Stability
With both office space options for startups, flexibility is key. Each has its own leasing terms which is great for a small business that does not need a full time office. However, coworking spaces are known to suddenly shift locations and replace staff members, making the environment highly unstable and risky. Meanwhile, shared office spaces allow business leaders to choose the right size office for their startup along with setting up temporary rooms for meetings at any time. Plus, these secure spaces give you the flexibility to increase your workspace or downsize, depending on your needs.
Technology and IT Support
The technology aspect of a new company is important for efficiency and growth. Without a solid network of Wi-Fi, phones, devices, and computers, a company will find it difficult to maintain itself. While both office options have the technology available, shared office spaces boast IT support right on the premises for a quick response. You'll want someone to take action right away if one of your devices malfunctions during an important meeting.
Shared office spaces are the right choice for fledgling businesses who want that professional, quiet atmosphere needed for growth. Plus, these offices are fully furnished and functional upon arrival, taking the hard work and money out of building an office from the ground up. This option includes everything you'll need like printing, mailing services, phones, internet, receptionist, and even a kitchen to get you started in the right direction. Furthermore the extra money spent on shared office spaces evens out once employees start working and collaborating in a professional atmosphere designed to amplify efficiency.
Click here to see available premiere furnished office space in Manhattan. 
View Virgo Business Centers 5 Midtown Manhattan locations: Midtown, Midtown East, Grand Central Terminal, Empire State Building and Penn Station.