3 Things Successful Small Businesses Have In Common
Written by Don Seckler on February 4, 2016 in Blog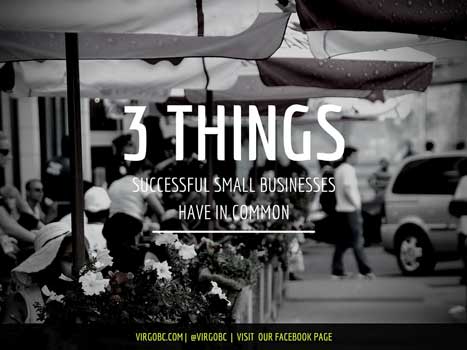 All successful small businesses are not created equal. Products, service areas, company culture, and atmosphere are just a few examples that differentiate one business from another. But successful small businesses also offer a variety of similarities that run deep—and by focusing on these common areas will uncover what it takes to make your own small business successful. If you run a small business and would like to take it up a notch, then consider these three things that successful small businesses have in common.
Listen to employees.

Choosing the right employees for a small business is an important step for the company's success. Since finances are lower than that of a larger business model, it is important to select professionals who are not only experienced but share a passion that justifies their involvement within your organization. Since it is understood that these individuals are among the best and the brightest, it is important that their talents are utilized and voices heard. According to an

Inc.com

post by Joe Fuld, President of the Campaign Workshop, many of his company's innovations actually come from employee suggestions. This concept, although not uncommon in today's business world, may seem foreign to small business owners who invested their own time, energy, and money in creating the company. While you may hesitate to relinquish some control and allow employees to offer their input, you may be surprised at the productivity and ideas that can come of it. Offer employee surveys, hold town meetings, or even start a suggestion box in order to hear what your employees have to say about possible changes or improvements that may make your business even stronger.

Know the competition

. Knowing your competitors is crucial for any sized business, but for small businesses, it is such an important factor in determining success. While researching the competition may seem simple enough, finding tools to offer this information could become confusing and even frustrating. Several apps and extensions offer to assist in providing additional information about competitors but lack of information on the internet or faulty programming could leave users at square one for quite some time. Sometimes, all it takes are some useful tips in order to dig up the dirt on competitors and improve your position within the market.

Entrepreneur.com

provides a list of useful tips and tools for hunting down information about the competition. Suggestions such as checking the economic census at

www.census.org

, purchasing background reports, and even talking to customers help small businesses get creative when it comes to researching the competition.

Develop a business plan.

This is probably the most important of the three items that small businesses have in common. Not only will a business plan outline your company's plans for the future, but it should also include actionable items in order to achieve those goals. Developing a business plan forces small businesses to focus on every angle of their business, fully understand the competitors, and create a clear path for success. Take time to create a comprehensive plan and if you're not sure where to start, there are tools available in order to make the process easier. The

Wells Fargo Business Plan Center

provides resources that include an extensive learning section as well as analytical tools for business owners of any skill level who are interested in creating a professional business plan specific to their situation. While this plan may take time to build, its existence is crucial to your business's success as well as your understanding of the market.
View Virgo Business Centers 5 Midtown Manhattan locations: Midtown, Midtown East, Grand Central Terminal, Empire State Building and Penn Station.