4 Reasons To Consider Furnished Office Space in Manhattan
Written by Don Seckler on February 3, 2016 in Blog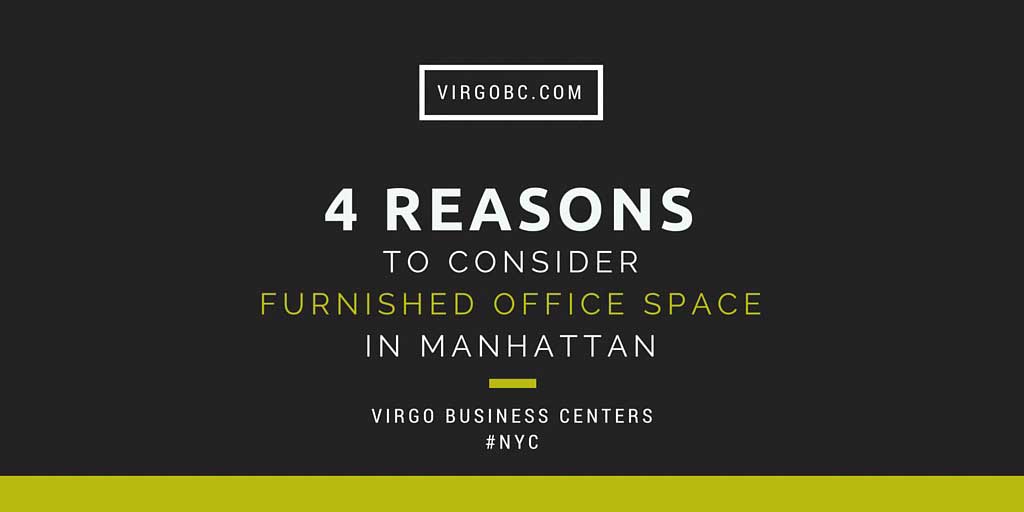 Finding the right office space in Manhattan can be challenging, to say the least. Location, space, and cost are just a few things that business owners are considering when searching for their perfect office. With so many fees that come hand in hand with renting office space, one may wonder where and how to cut corners in order to save money. However, one important cost that may be overlooked or misunderstood is office furnishings. While this may not seem like a crucial factor in choosing a space, the right furnishings create an office ambiance that is important to productivity. Below are four reasons to consider furnished office space in Manhattan.
Office furnishings can be expensive.

Furniture is expensive, but office furnishings can really break the bank.

David Cummings

suggests that the cost of furnishing an office can run as high as $4,200 per person. This means that the cost of furnishing an office for 10 employees will cost you around $42,000. This is a huge, often-overlooked expense for a small business—and is why selecting a pre-furnished office space will offer substantial upfront financial relief.

Cubicles.com

offers a calculator to help determine what furnishing your office may cost.

Less to think about.

With so many things to consider when opening a new office location, furnishing a space is often the  last item a business owner needs to have on his or her mind.

Venturebeat

provides a list of 8 things that every small start-up faces. These reasons show just how inconsequential office furnishing may be to a business owner and why leaving it to the building owner could save a lot of heartache. Choosing a furnished office space creates less of a hassle for business owners and leaves additional time to get their business off on the right foot.

Pre-selected furnishings are cohesive with the office design and promote a happy work environment.

Most furnished office spaces create a fluid look that works well with the office design. While it isn't impossible to purchase furnishings that match the design of the office, choosing a furnished office often provides a much more finished and professional atmosphere—for both your clients and employees. Most offices use systems furniture such as partitions and packaged panels, shelves, and work surfaces, which create privacy for employees and block out noise. Purchasing them on your own can become pricey and there's a temptation to cut corners, resulting in a lack of privacy for employees, which could hurt performance and create a negative work environment.

Creates a professional appearance

. Let's be honest, just because you have experience running a business, that doesn't mean that designing an office  is your forte. The look and feel of an office space is rarely something that is just thrown together by building owners. Frequently, professionals are hired to offer suggestions based on the office's layout and look. Factors such as furniture color and style are considered in order to give the office a professional aesthetic that may be difficult to achieve by an inexperienced individual. While the sound of purchasing cheap office furniture may be tempting, unpolished atmosphere creates an unprofessional appearance for your clients. Leasing furnished office space may make the difference between a sale and a loss.
Click here to see available premiere furnished office space in Manhattan. 
View Virgo Business Centers 5 Midtown Manhattan locations: Midtown, Midtown East, Grand Central Terminal, Empire State Building and Penn Station.