5 Great Reasons Why Temporary Office Space Is The Answer
Written by Don Seckler on January 28, 2016 in Blog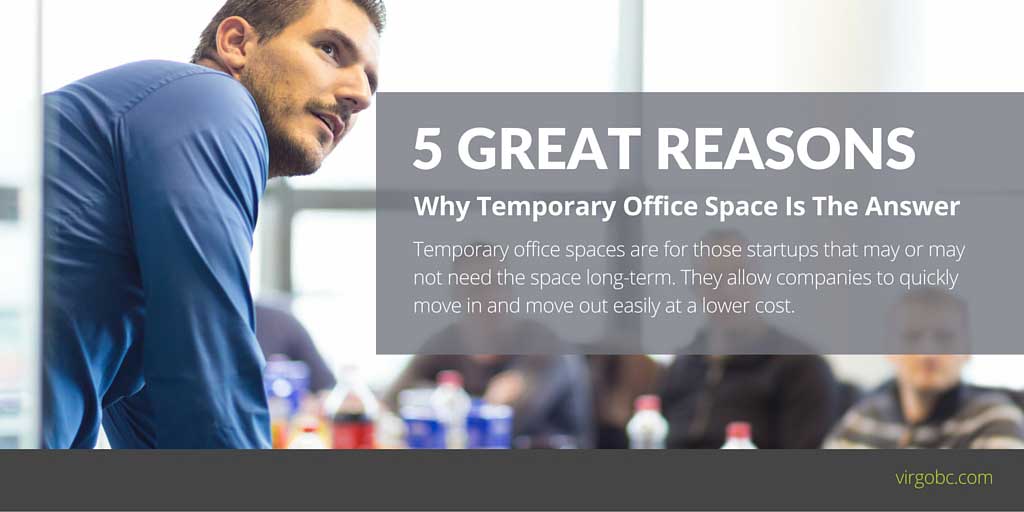 When startups and small business begin to lift themselves off the ground, having an actual office is the next logical step. Moving the business from your home to a sleek office gives legitimacy to your company while offering many benefitting rewards. Offices provide a professional atmosphere where employees can be their most productive and therefore help the company grow. But if you're not sure where your company is going, temporary offices are a great alternative to the traditional office.

Temporary office spaces are for those startups that may or may not need the space long-term. They allow companies to quickly move in and move out easily at a lower cost. They are a great choice for fledgling businesses for many reasons:
Cost


Short-term office spaces are offered at lower rates than renting traditional spaces. Traditional offices require rent plus extras like lighting, internet, upkeep, furniture, receptionists, and IT support. Temporary offices include these extras plus a cheaper rent. You'll be able to walk into an office space that is already furnished with desks,technology, and a building staff so you can focus on developing your company. The money you'll save with a temporary office space can be invested back into your company for maximum growth.
Saves Time


Since temporary office spaces are already laid out, you can start working right away. You won't have to deal with hassles like design, layout, internet, phones, etc. Plus, these spaces have their own property managers who handle required maintenance which also allows more time for work.
Networking


For startups, networking is

essential for success

. Short-term office spaces provide an opportunity to meet more companies within the same building. You can learn and solve problems with these businesses while collaborating on similar projects. Networking could also bring in more clients which means more revenue.
Flexibility


Small businesses require a certain level of flexibility at the beginning. Business centers provide both short and long term leases for companies with uncertain futures. They may need to lengthen or leave their leases at any given time. Temporary office spaces also give companies the option to downsize or expand. If your company seems to be growing and you need more office space, these centers will deliver. On the other hand, if your company doesn't need all that office space, you could arrange to rent out a space on a daily, weekly, or monthly basis.
The Look


With short-term offices at business centers, companies will be provided with a professional atmosphere that boosts creativity and productivity. Having a stylish office will solidify client confidence in your company. The office will most likely have a receptionist, latest technology, and space for important meetings. These offices also come with mailing, printing, and faxing services which also polishes a company's name.  Plus, employees will have a

clean atmosphere

where creativity can thrive and multiply, thus increasing revenue. Operating out of an elegant building helps retain clients while attracting new ones.
Temporary office spaces speak for themselves when deciding upon a location for your new business. You'll be saving time and money while retaining the flexibility needed for growth. Plus, having a temporary office in a business center offers the unique opportunity to network and collaborate with other similar businesses that you may have otherwise overlooked. Lastly, you'll be be working from a developed space that already has furnishings, technology, and a maintenance staff so you can focus on what's important. Temporary office spaces are the perfect option for startups who need a home.
View Virgo Business Centers 5 Midtown Manhattan locations: Midtown, Midtown East, Grand Central Terminal, Empire State Building and Penn Station.