The Pros Of Using Shared Office Space In NYC
Written by Don Seckler on February 16, 2016 in Blog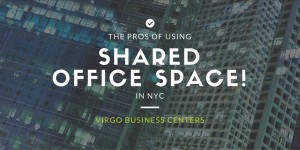 Shared office spaces have become increasingly popular over the past few years. There are many benefits in a large city like New York to moving your company to a shared office space solution.
In fact, shared office space is becoming so popular that businesses are turning to shared office space solutions in record numbers.  Here's what you have to gain from taking advantage of this increasingly popular solution for businesses of all sizes.
Easy access to networking and profitable business relationships – Sometimes, finding time to network can seem like a whole other full-time job.  When you are utilizing shared office space, you have a built-in opportunity to network with a wide variety of businesses.  This chance to forge some strong business relationships will lead to solid referrals that will turn into more business for you.  
Inspiring creativity – Because of shared office space, communication is more likely to occur between colleagues and other businesses. Work from home situations do not offer the same level of employee access as a shared office space and may result in colleagues who do not communicate effectively. Communication with other employees and even other business owners is a great way to generate shared ideas, inspiration, and a sense of unity that will get the creative juices flowing, sometimes with very little or no effort at all.
Ease of getting started – When it comes to shared office space on of the huge upsides is the fact that you can often move in immediately.  Most traditional office rentals require weeks or even months before you can move your company in.  
Plus with a shared office, you are able to move into a fully furnished space with phones, internet and a professional reception staff already in place. So in today's fast-paced world, you are able to allow your company to be as nimble as you need to be.    
Much lower cost – Shared office space can certainly offer substantial savings over a traditional office rental in New York City. Plus in addition to your office, you can get access to a full suite of services including conference rooms, mail delivery, call answering, on-site staff and much more That allows your business to operate at optimum efficiency.  In addition, furnished shared office spaces are designed for companies that want to cut costs while maintaining flexibility.
The ultimate in flexibility –  Shared offices generally come fully furnished and have flexible terms. You can take advantage of monthly, daily and hourly office space rentals.  This is a huge plus especially for a new or growing business.  As your staff expands, your shared office space can expand right along with it.  Plus you can move very quickly.  There's nothing more frustrating than having your company's growth quashed by the logistics of office space that keeps you from adding staff when you need them.
Shared office space is better than open office space – Open office space is different than shared office space.  Open office space is when you have your people and other companies' people in one communal room.   Shared office space gives you your own office with a door and privacy when you need it.
Open offices have been all the rage and were promoted as drivers of communication and collaboration.  The problem is that those benefits are often tempered by the lack of privacy.  People need to focus and think in order to be productive.  That's often hard to do when you're in a communal space all day every day.
Shared office space offers the opportunity to collaborate and network when you want to, but you still have the very valuable option of privacy and focus.
View Virgo Business Centers 5 Midtown Manhattan locations: Midtown, Midtown East, Grand Central Terminal, Empire State Building and Penn Station.