What Is Swing Space And Where Do I Find It In NYC?
Written by Don Seckler on February 19, 2016 in Blog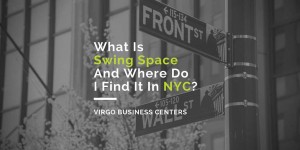 Growth and change are inevitable for any thriving New York City business. When a client list expands, in turn, the employee count should increase in order to manage this progression. This growth can be exciting for the company as it demonstrates its success and provides hope for even further expansion in the future.
While this time is definitely worth celebrating there are things to consider before taking on additional employees. Since many office spaces in New York are designed to house just a few employees above the current count, finding a place to actually put new employees can become a challenge. Renting a new space is a viable option, but sometimes you would prefer to renovate or even expand your current space.  But how do you keep your business up and running during construction? For many employers, this is where swing spaces come in.
What is swing space?
Swing spaces are temporary office environments that are used while an existing office is being renovated or a new facility is being built. While this may seem like a straight-forward concept, all swing spaces are not built alike and, therefore, may offer different features for business owners to consider. Here are several suggestions on what to look for when considering a swing space.
Swing space keeps your business up and running
If your business is expanding and your current office space is undergoing construction or a remodel, swing space allows you to keep business operations uninterrupted during the construction work.  
Think about the needs your company has when evaluating swing space solutions.  Do you need to have conference rooms available for regular team and or client meetings?  What kind of technical needs does your company have?  Are you going to need internet access and phones?  What about the location?  Would you prefer to have a prestigious address right here in Manhattan?
Do your homework up front and make sure all of your company's needs are going to be met.  You would hate to move in and and find out after you are settled that a major need was going to be unmet.
What kind of swing space options are available?
Here again you should define your company's needs before you start your search for swing space.  Consider the impact moving into swing space will have on your staff.  It's likely that some people will see the change as a breath of fresh air and an interesting change from the usual every day.  While others may have a tougher time adjusting to this new, but temporary situation.
Think about your current staff, their current workspaces and how they will best fit into the swing space. Calculate how many private offices you need and or cubicle style spaces.  There is also the option of open office lounge type space at some locations.  The right mix of people and spaces can make your business' time in swing space as productive as possible.
Swing spaces can come fully furnished
One of the big benefits of a lot of swing spaces is that they come fully furnished.  When you utilize a shared office company for your swing space you don't have to move desks, chairs, lamps or any of your existing furniture to your temporary office space.  They have already got you covered.
In fact shared office spaces are a great swing space solution because you really can move in immediately.  Most shared office spaces come with pretty much everything you need to make sure your business doesn't miss a beat.
You'll not only get fully furnished workstations and offices, but shared office solutions also include a professional reception staff with a top notch reception area.  They'll even handle your mail and take care of all the cleaning and maintenance issues.  Having those extra touches means one less thing you have to worry about.
Where can I find swing space?
Fortunately, swing space is not difficult to come by in New York City. In fact, Virgo Business Centers offers a wide variety of options all over New York City.  Virgo's temporary office spaces are ideal when looking for swing space in NYC.
View Virgo Business Centers 2 Midtown Manhattan locations: Midtown and Midtown East.