4 Ways To Speed Up Your Search For Manhattan Office Space
Written by Don Seckler on September 10, 2015 in Blog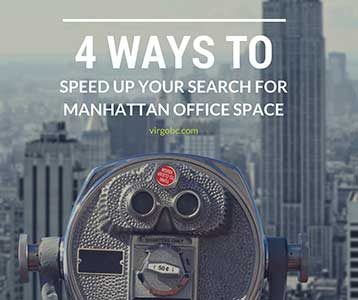 Finding the right office space for your business in New York City can be a time-consuming and daunting task. There are so many neighborhoods, types of office space and other factors to consider like price, amenities and proximity to subway and commuter train lines. So, how can you streamline the process in your search? Here are 4 ways to speed up your search for Manhattan office space.
Know What You Want
Knowing exactly what you want in an office space is a surefire way to speed up your search. Manhattan is a huge borough with many different neighborhoods and each one has its own personality. Are you looking for a boutique office in Greenwich Village or SoHo? Are you seeking a location with a business vibe, such as the Financial District or Midtown? Do you want to have an office space among like industries? For example, the Garment District is ideal for designers and fashion wholesalers. Take the time to research all of the Manhattan's neighborhoods and pick one that meets your style and industry needs. And if you prefer a location that is surrounded by entertainment, such as parks, work out facilities and great places for the after work happy hour, learn about all the fun perks each area offers.
Take Advantage Of Digital Resources
Today, there is an abundance of online commercial leasing sites that list NYC office rental properties. Popular ones include LoopNet.com, findNYCoffice.com and mrofficespace.com. Online users can easily narrow their searches by neighborhood, price, size, office type and amenities. Even get property photos with property details, location description and unit information. If you don't find anything you're interested in, sign up for an email alert when a rental listing comes up that meets your criteria. Print out the listings you're interested in and get the listing broker's contact information. From there, you can just give them a quick call for more details and set up an appointment for a tour. These online commercial leasing sites are designed to save your time in your search for a Manhattan office.
Work With A Manhattan Commercial Real Estate Firm
There's no shortage of commercial real estate firms in the Big Apple that specialize in office space. Meet with one of these real estate professionals to discover all of your options. Collaborate together to identify properties that meet your budget, caliber, timeline, square footage, and preferred location. These professionals will continually locate office spaces that match your requirements and coordinate tours that are arranged in a sensible order for time efficiency. This way, you won't squander time pounding the pavement.
Visit an Established Business Center
In NYC, you can find established business centers that offer many different types of office space solutions, including virtual offices and shared office spaces. Quickly find office space in your desired location, such as Penn Station, Uptown Manhattan, Downtown Manhattan and Midtown Manhattan. Land a prestigious address on Lexington Avenue or Fifth Avenue very quickly and easily. Just give them a call and schedule a tour of their properties. You'll find that many of their properties offer great advantages like high-speed Internet, furnished offices, phones and conference rooms. With many great office spaces at their locations, you can end your search and usually move in right away and get up and running very quickly.
Finding the office space in Manhattan that is the right fit for you does take a bit of time and research, but if you use these types of effective resources, you'll make searching for your Manhattan office space easy. In no time, you'll be moving into your new space.
Click here to see available premier office spaces in Manhattan. 
View Virgo Business Centers 5 Midtown Manhattan locations: Midtown, Midtown East, Grand Central Terminal, Empire State Building and Penn Station.