Small Business Survival Guide To Finding Office Space In NYC
Written by Don Seckler on October 1, 2015 in Blog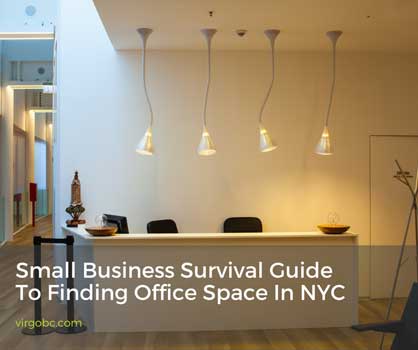 Business centers and shared office spaces are excellent ways for companies to have a professional presence in Manhattan. Many people think of these options as co-working spaces, but they really aren't the same thing. Co-working spaces are generally open areas that have a lot of tables and desks. They can be good choices for some people, but shared office spaces and business centers are more secure and provide individual offices, which make it easier to concentrate and get more done. 
Another option, of course, is renting your own traditional office space. But finding and leasing a traditional space in Midtown Manhattan, near Grand Central Station, or even on the East Side isn't easy or inexpensive. Especially for companies that just starting out, there often isn't room in the budget for a traditional office space option.
Which is why if you want to have an office in Manhattan, shared office space can work very well. Business centers provide privacy for an individual or company but they also cost a lot less than renting a space that would be just your own, all the time.
If you're considering shared office space or a business center in NYC, especially if you're interested in Manhattan, keep in mind that these office options give you some significant benefits:
Business centers have the benefit of a professional receptionist and a stylish waiting area.

You can generally move in to a shared office space more quickly. That's a big benefit if you're trying to get your company off the ground, or if you lost your previous office space for some reason and need a new location fast. Many shared office spaces let you move in within 24 hours, versus the days or weeks it could take for a traditional space. When you need to be up and running quickly, you'll definitely appreciate that benefit.
You'll get a price that's much better than traditional office space rentals, especially for popular locations like Midtown or near Grand Central Station.
You'll have access to a conference room, copiers, and everything else you need to be successful without having to make the capital investment.

You'll have easy access to other businesses that are in the same business center as you, so you can network and get to know people in your new location. That can mean increased referrals, and businesses working together. Don't underestimate the value of referrals, as they can really make a difference in your business and how many people seek out your products or services. When you have those referrals built-in because you're sharing office space, you'll have a better chance of success right from the very beginning.

Unlike a traditional office location, shared office space doesn't require you to make a long-term commitment or sign a five-year lease. If you need to downsize or move, or if you need more space and have to find a different location because you're growing, you can move without the worry of breaking a lease and having to pay high fees.
With shared office space, you can make your dreams of a business that survives – and thrives – in Manhattan a reality.
Click here to see available premier office spaces in Manhattan. 
View Virgo Business Centers 5 Midtown Manhattan locations: Midtown, Midtown East, Grand Central Terminal, Empire State Building and Penn Station.