5 Things Growing New York Small Businesses Have In Common
Written by Don Seckler on September 29, 2015 in Blog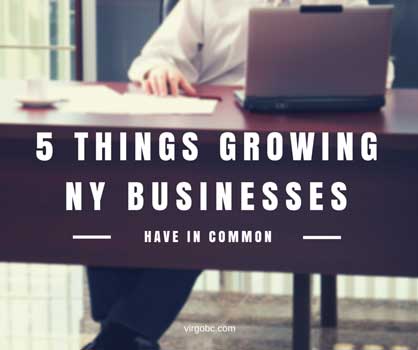 Growing a small business in NYC isn't easy, and if you're focused on a great place like Midtown on The Avenue of The Americas or the Empire State Building, it can be even more difficult to see a high degree of success.
Fortunately, there are ways you can get what you need without the costs and long-term commitments of traditional office locations. That's generally done through business centers and shared office spaces, where you'll have access to everything that's important to get your business up and running, but at a price you can live with.
No matter what type of business you're going to be operating, here are five things that small businesses in Manhattan have in common.
1). They need receptionists, conference rooms, and office equipment.
Being a one-person show isn't a good thing for most companies. You don't want customers to realize that you're only one person, because they'll have more confidence in your business if they think you have a team behind you. It also sounds more professional to have a receptionist answering the phone, and customers will like going into your conference room or private office to talk things over. You can get these necessities with shared office space. Your company will look as professional as possible, right from the beginning.
2). They need affordability.
Having receptionists, conference rooms, copiers, and more might seem like a frightening prospect, because it sounds like it's going to be expensive. Fortunately, it doesn't have to be costly. With shared office space, you can get everything you need for your business without spending nearly as much as you would for a more traditional office space on your own. You'll share costs with others who use the space, and you'll have options for what you need and want to pay for. This affordability makes an office location attainable in Rose Hill, Madison Square, or whichever Manhattan neighborhood you choose to operate out of.
3). They need customers and referrals.
Getting customers is vital for any business. If people don't come to you or you don't have ways to reach out to them, you aren't going to make enough money to stay viable. When you have shared office space, there's the added benefit of being around a lot of other great companies that can help add to your customer base and refer people to you. By working together and building a network, you'll be much more likely to have success and a customer base that's strong and that will continue to grow over time.
4). They don't need fancy frills.
You don't need a expensive perks that just pad your expenses. They're not necessary for your type of business, and it isn't a requirement for you to be successful. Some traditional office spaces may come with those types of perks, but you're going to be paying for it. Instead of adding those additional costs, choosing a shared office space with the exact amenities that you need is often a better option. You'll save a lot of money—and also stay focused on your business.
5). They need quick options and good choices.
Whether you've chosen Midtown or Penn Station – or anywhere else in Manhattan – you have the option of moving in quickly when you use a business center or shared office space. You won't need to wait weeks to get into your location or set up phone and computer lines, and many places can even allow you to be moved in within 24 hours. That immediacy can take your business to the next level without any downtime, so you have the chance to get started and growing right away.
Click here to see available premier office spaces in Manhattan. 
View Virgo Business Centers 5 Midtown Manhattan locations: Midtown, Midtown East, Grand Central Terminal, Empire State Building and Penn Station.